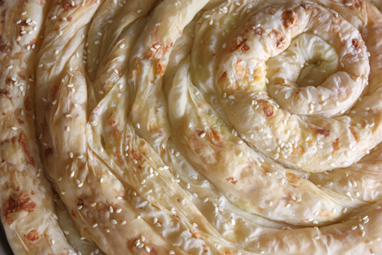 Traditionally maznik is made every "Suro", for the "Old New Year" celebrated on 14 January (following the Julian calendar). A gold coin (wrapped in foil) is placed into the dough and baked. Each family member is then cut a slice of maznik, the tray is spun three times and the person that finds the coin has a full year of 'good luck'. It's a lot of fun and definitely something we all look forward to.
My great grandmother, Baba Pera taught mum how to make maznik at the young age of 12. There was no written recipe and no measuring cups, the recipe had been memorized and practiced for generations and passed down to all the females in the family.
It's likely that maznik dates back to the Turkish Ottomon rule of the Balkans as each country has their own version. In Macedonia, maznik is a national dish, and dear to the hearts (and stomachs) of many. Making it on the other hand is back-breaking stuff and anyone who has attempted it, or has watched it being made knows it's a labour of love and requires quite a lot of practice. Although it's hard work, my goodness is it worth it! Handmade filo-like pastry rolled and filled with feta and baked until golden and flaky.
Pin It