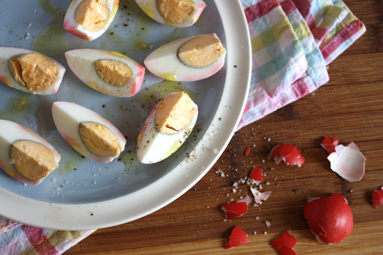 Now that the Orthodox Easter egg cracking competition is done and dusted, what does one do with all those hard boiled eggs??
You can always make lots of egg sandwiches, but my family prefers this yummy and very simple egg salad that can be enjoyed all year round!
……………………………………………………………………………………
Recipe
Serves 4
Ingredients
4-6 hard boiled eggs, peeled and cut into quarters
Olive oil
Red wine vinegar
Sea salt
Freshly cracked black pepper (optional)
Method
1)Â Arrange egg slices on a plate. Drizzle over olive oil, vinegar and sprinkle with sea salt to taste.
2) Serve with fresh crusty bread.
Pin It