Sponsored by Kellogg's and Nuffnang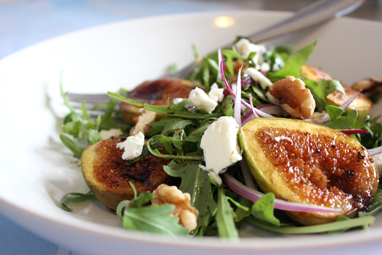 I took the Kellogg's 7 day challenge and kicked off with a high in fibre Breakfast Barley (this recipe is now available on All-Bran.com.au) and I'm pleased to report that it seems to be working.
Combined with eating better and a sprinkle of All-Bran Fibre Toppersâ"¢ over a meal every day, I really am starting to feel better and All-Bran-new ;)
I was amazed at how I could easily include a couple of spoonfuls in most meals, be it sweet or savory. For example, my favourite Banana and Cinnamon Smoothie (substitute full cream with low-fat milk and ice cream). Fresh fruit with reduced, low or no fat yoghurt and a drizzle of honey. But All-Bran Fribre Toppers™ were especially good sprinkled over my 5 minute Fancy Fig Salad – truth be told, I did make a couple of minor adjustments in that I ditched the butter and reduced the amount of cheese, but it still tasted equally good.
So just by watching what I'm eating and adding Kelloggs' All-Bran Fibre Toppersâ"¢, which I should remind you is low in fat and has the Heart Foundation Tick, I'm feeling much healthier.