Sponsored by Kellogg's and Nuffnang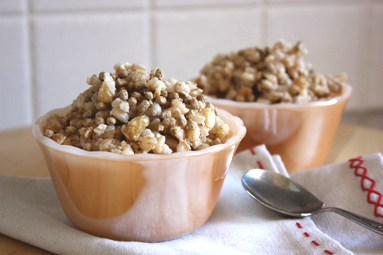 My little monkey Bastian will be 10 months this week – I keep asking myself where on earth the time went?!?! It's been a crazy journey, and I hate to sound clichéd, but I'm enjoying every minute, well almost every minute…the sleeplessness has its moments ;)
In an effort to keep up with my little man I'm taking the 7 day All-Bran challenge. All I have to do is top up my fibre intake and see if it makes me feel different after 7 days. I know there's a lot of products on the market, however, I'm going with a great new Kellogg's product called All-Bran Fibre Toppersâ"¢ – they're made with natural wheat bran, oat fibre and psyllium, and all I have to do is sprinkle a 25g serve over at least one meal a day. Easy peasy!
My aim is to eat more wholesome food whilst doing the All Bran 7 day challenge, especially for breakfast. Something I love having for breaky is my baba's sweet pearl barley. Traditionally shared at church for important Saint days, my grandmothers pchenica also makes for a quick and tasty morning meal. It's a nice alternative to bircher muesli or porridge, and with a sprinkling of extra fibre tops up the fibre content.
Baba's recipe doesn't include lemon zest so this is optional, however, I like the freshness it adds. Similarly, a sprinkling of Kellogg's All-Bran Fibre Toppers™ is something I decided to add for a little extra fibre.
My little helper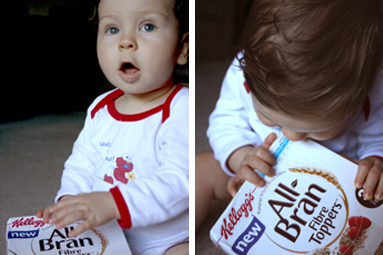 ……………………………………………………………………………………
Recipe
Serves 6
8.9g of fibre/serve
30% Recommended Daily Intake
Ingredients
1 cup (200g) pearl barley
3 cups (750ml) water
2 tablespoons (40g) caster sugar
2 teaspoons (4g) vanilla sugar
Zest of 1 lemon (optional)
170g (1.5 cups) walnuts, chopped
1 cup (50g) All-Bran Fibre Toppersâ"¢
Method
1) Wash pearl barley and pick out any discolored grain. Place washed barley and water in a saucepan, bring to the boil and simmer for 30 minutes. Allow to stand for 15 minutes then drain any excess liquid. In a medium bowl or container mix together drained barley, sugar, vanilla sugar and lemon zest. Stir through walnuts and serve warm, at room temperature or straight from the fridge.
2) For extra fibre and crunch sprinkle over All-Bran Fibre Toppersâ"¢ before serving.
Tips:
– Store in fridge in sealed air tight container and enjoy within a couple of days.
Pin It