Every Macedonian house serves nuts as meze alongside cheese, salami and salad.
I often bake almonds before guests arrive and serve while warm – the nutty aroma that fills the house makes it twice as hard for anyone to resist.
I promise that if you make these baked almonds once, you'll never buy pre-packaged salted almonds ever again! They're so incredibly quick and easy and taste amazing.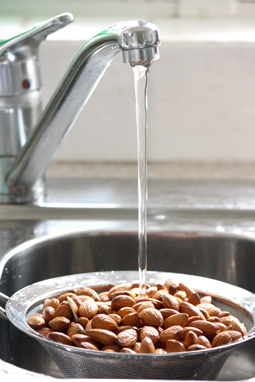 ……………………………………………………………………………………
Recipe
Ingredients
500g raw almonds (skin on)
1 tablespoon coarse sea salt
Method
1) Preheat fan forced oven to 150°C. Gently wash almonds in cold water and drain well.
2) Line a large tray with baking paper. In a bowl combine the almonds and salt, spread out evenly onto the tray. Bake for 10 minutes, then remove from oven and stir, bake for a further 10 minutes or until the nuts feel dry.
3) Serve immediately or store in an airtight container.
Tip: Replace almonds with other nuts like peanuts or try sunflower/pumpkin seeds.