Okay, so this isn't a family recipe and it's not Macedonian either, but I'm a sucker for homemade mayo and wanted to help dispel the myth that making it is hard – it's easy!
It's also been around for years so it can definitely qualify as a 'village' recipe ;)
I have never really eaten the supermarket mayo (it's way too sugary and artificial), so when I discovered that homemade mayo takes less than 10 minutes to make I felt compelled to tell the world (sorry if you're one of the converted).
I love how a good mayonnaise can elevate the humblest ingredients (e.g. potatoes, cabbage), and how everyone thinks you're an expert if you know how to make it, afterall, it is the beginning of 'molecular gastronomy'.
This recipe is based on Gordon Ramsay's version from his book '3 Star Chef' however I prefer to use a Dijon mustard over hot English and an electric hand-held mixer over a food processor (which is what he uses).
Once you have a basic mayonnaise you can quickly turn it into aoili (add the juice of 1/2 a lemon and a crushed garlic clove), or finely chopped gherkins, capers, lemon and parsley to turn it into tartare sauce.
Step 1 – Combine egg yolks, vinegar, mustard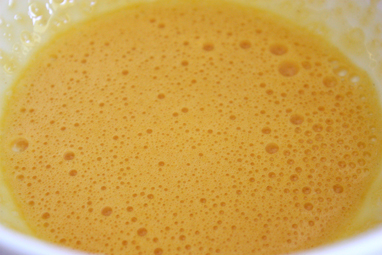 Step 2 – Gradually add oil

Step 3 – Thick creamy mayonnaise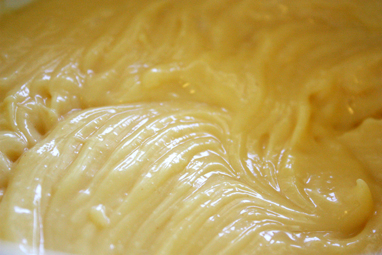 ……………………………………………………………………………………
Recipe
Makes about 1 cup
Ingredients
2 large egg yolks
1 teaspoon white vinegar
1 teaspoon Dijon mustard
200-250ml rice bran oil (or other flavourless oils like canola, sunflower or light olive oil)
1 tablespoon water
1/2 teaspoon sea salt
freshly ground black pepper
Method
1) Put the egg yolks, vinegar and mustard into a medium mixing bowl. Using an electric hand-held mixer on the lowest setting whisk until all the ingredients are well combined (1 minute).
2) While you're whisking add a drop of oil, once that's combined add another drop and continue to do this until you have blended 1/3 of the oil. Now you can add the remaining oil in a slow steady stream until you have a thick creamy mixture. Blend in the water, salt and pepper and transfer to an airtight jar/container and keep in the fridge for 3-5 days.
Note: The key to a successful mayonnaise is making sure each drop of oil is thoroughly whisked in before adding the next drop.
Tip: Use really fresh eggs and have the oil in a jug/bottle to make it easy to pour.