With summer approaching, one thing my family loves is kjoftinja (homemade meatballs) on the bbq.
Mum's special recipe is based on the traditional Macedonian version but with a few additions. You can make them any shape or size you like and there are no rules about how to eat them, my niece loves eating her kjofte with bbq sauce, while my husband prefers his on a hamburger with caramelized onions, fresh aioli (see mayonnaise recipe) and salad.
I often make a big batch, form the patties and freeze raw on a tray. When frozen (after 6 hours) I pop them in a freezer bag and unfreeze as I need.
Combine all ingredients in a large bowl

Form each kjofte and add a divot in the centre (slight indent)

Set aside on a tray and chill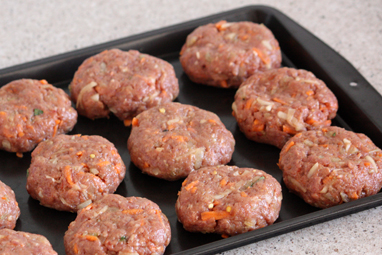 ……………………………………………………………………………………
Recipe
Makes 20 kjoftinja
Ingredients
1kg beef, minced
250g pork, minced
1 medium white onion, grated (use your hands to squeeze out excess liquid)
1 small potato, grated (use your hands to squeeze out excess liquid)
1 medium carrot, grated
1 celery stick, grated
1 egg
1 tablespoon plain flour
2 teaspoons dried chilli flakes
1 teaspoon mild paprika
1/3 cup coarsely chopped mint (replace with 2 teaspoons of dried mint if fresh is unavailable)
2 tablespoons olive oil
1 teaspoon salt
2 teaspoons dried vegetable stock e.g. Vegeta/Massel (this is optional, I prefer to replace with extra salt)
Freshly ground black pepper to taste
Method
1) Throw all the ingredients in a large bowl, scrunch with your hands and knead until everything is well combined (3 minutes).
2) Run your hands under cold water (do this every so often) and roll a handful of the mix into a round ball, then press to flatten slightly with the palm of your hand and add a divot in the centre with your thumb (a small indent the size of a 10 cent piece to help the meat cook evenly). Set aside on a tray, cover and refrigerate until firm (30 minutes), or pop into the freezer if freezing.
3) Heat a nonstick pan or bbq flatplate (medium heat), add a small amount of olive oil. Cook for 4-5 minutes on each side or until browned and cooked through.
4) Serve while warm with bread and salad or ajvar (chilli spread) or on a burger.
Tip: Before forming each kjofe test the seasoning by making a mini ball and frying in a little oil.