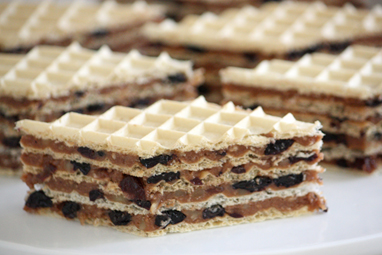 If you're one of those people that will forgo savory so that you can justify eating something sweet – this Balkan classic is for you. It's intensely delicious and very hard to stop at just one!
The famous Croatian packaged wafer biscuit (Kras) will be found in most households in Europe (for those unexpected drop ins), but this no-bake recipe for homemade napolitanki is so much tastier.
As to be expected, there are endless variations, but from all those that I have tasted (and there have been many), this recipe is by far the most mouth watering. It's based on the recipe you'll find on the outside of the wafer packet but with a few yummy additions that my mum has always thrown in.
Napolitanki are great for large parties, when you need lots to go around. You can make them a week earlier and freeze. They're best served at room temperature as the filling goes all soft and oozy.
Tisa Wafers are available from select delicatessens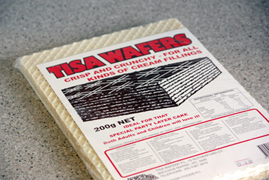 Cutting butter into cubes will help it soften quicker

Biscuits should be finely chopped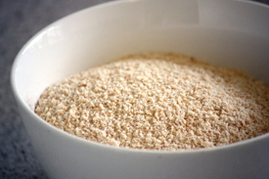 Evenly spread the filling

Cut horizontal strips followed by diagonal to make diamond shapes

……………………………………………………………………………………
Recipe
Makes 40 napolitanki
Ingredients
1 x 200g packet of Tisa Wafers (found in most specialty delicatessens)
300g currants, soaked and drained
250g unsalted butter, softened
250g plain biscuits, finely chopped (I use Arnott's Milk Arrowroot biscuits)
1 cup (115g) natural walnuts, chopped
250g icing sugar, sifted
4 organic or free range eggs, room temperature
2-3 tablespoons cocoa or melted cooking chocolate
dash of vanilla essence
Method
1) In a medium bowl cover currants with boiling water. Allow to stand for 30 minutes to 1 hour and drain well, squeezing out some of the excess liquid.
2) While the currants are soaking prepare the other ingredients.
3) Using an electric hand-held mixer combine the softened butter and icing sugar until pale and fluffy (3-5 minutes). Add the eggs, followed by the cocoa and vanilla essence until well combined. Using a spatula fold in the biscuits, walnuts and currants.
4) Place wafer on a sheet of aluminium foil, evenly spread 1/4 of the mixture over the wafer, leaving a 5mm boarder. Carefully place the 2nd wafer sheet on top, press down slightly to fill in all the gaps, repeat for the remaining wafers leaving the top wafer without filling. Press down firmly to ensure filling is evenly spread, wrap in foil and refrigerate for a minimum of 4 hours (overnight if possible).
5) Using a straight edge (I use the edge of a baking tin or clean ruler) and a sharp cooks knife or serrated bread knife, cut horizontal strips approximately 4cm apart. Cut again on a 40Ëš angle (following the lines of the wafer print) to make diamond shapes. Serve immediately or store in an airtight container and refrigerate until your guests arrive (they taste best if allowed to stand for 30 minutes before serving).
Note: You'll have lots of off-cuts which make for a yummy snack.
Tips:
– Use a food processor to chop the biscuits and walnuts
– Add a little rum to the filling mix for a more adult dessert
– Make ahead of time and freeze