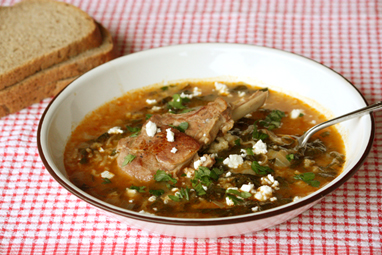 Thanks to my mother-in-law, I was lucky enough to have a beautiful bunch of spinach, freshly picked from her garden. Admittedly, spinach is one of my favourite greens and one of my favourite ways of eating it is in a traditional village-style stew called mandza (pronounced muhn-juh).
This stew takes a little bit of work, but once it's done you can pop it in the fridge and reheat for dinner over the next few nights (I often double this recipe so that it lasts a bit longer).
Like most traditional village meals this stew is super healthy and low in fat, it's also really yummy. I like it sprinkled with feta cheese and some chopped flat-leaf parsley. Of-course fresh bread is also mandatory to help mop up the lovely soup.
Gorgeous fresh spinach

Lightly season veal before browning

When making roux, the flour should bubble

……………………………………………………………………………………….
Recipe
Serves 4
Ingredients
4 veal cutlets (or veal t-bone steaks)
2 litres water, boiled
1 medium onion, peeled and finely chopped
1/3 cup medium grain rice, washed and drained
1 small bunch silverbeet spinach, washed, stems removed and coarsely chopped
2-3 tablespoons olive oil
sea salt and freshly ground black pepper
Roux
1 tablespoon olive oil
2 tablespoons plain flour
1 tablespoon mild paprika
1 cup (250ml) cold water
Method
1) Season veal with salt and pepper. Heat 1 tablespoon of olive oil in a large pot (medium-high heat) and cook the veal until evenly browned all over. Pour over hot water, add a tablespoon of salt (you can use a dried vegetable stock like Vegeta/Massel if you prefer) and bring to the boil, skim surface and reduce heat. Simmer for 30 minutes.
2) In a medium frying pan heat 1-2 tablespoons of olive oil (low-medium heat). Add onion and season with salt, saute until translucent (5-7 minutes). Add washed rice, stir to coat (1-2 minutes). Add spinach and sprinkle with extra salt, stir frequently and cook until just wilted (1-2 minutes). Add to the simmering pot, bring to the boil and reduce heat, simmer for 15 minutes.
3) Meanwhile make the roux (thickener). Give the frying pan a quick wipe down with a paper towel. Heat 1 tablespoon of olive oil (medium heat), add flour and stir frequently with a wooden spoon, being careful not to burn the flour (3-5 minutes). Have the water in a small pouring jug and a whisk ready to go. When the flour starts to smell like it's cooking add paprika and stir continuously until fragrant (1 minute). Add a small splash of water and whisk vigorously, once incorporated add another splash of water and whisk again until incorporated, continue to do this until you have a smooth slurry-type roux (3-5 minutes). Add 2-3 ladles of the liquid from the soup, whisk to incorporate and then stir in to the simmering soup. Simmer for a further 5 minutes. Taste and add more salt and pepper if necessary.
4) Serve hot with fresh bread and white cheese.
Tip: If you don't like veal replace with chicken pieces. Or, if you're vegetarian leave out the meat and add dried vegetable stock for extra flavour.