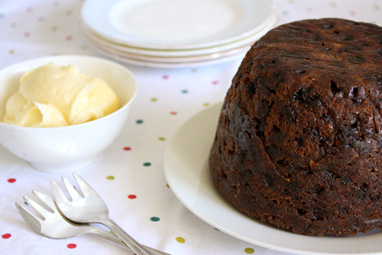 I've always wanted to make a traditional Christmas pudding from scratch, but for obvious reasons, puddings are not one of my families specialties.
You can imagine my excitement when I received an 'authentic' pudding recipe from a friend – a recipe which has been in the family for several generations. Word is that Grandma Bess (born in 1915) was given the recipe from her grandmother, who picked it up at the Royal Easter show all those years ago.
Like so many old favourites, grandma would never measure anything and just throw it all in and every year it would come out perfect. It must have been the "brandy for pudding, brandy for grandma" method that ensured it was so.
What I love most about Christmas and this recipe is the focus on family. Once all the ingredients are mixed in the bowl, everyone in the family takes it in turns to stir and make a wish. On Christmas day, silver coins from yesteryear are boiled to sterilise, then small incisions are made all over the pudding and the coins are inserted for the kids to find, care of the Sugar Plum Fairy. (As silver coins are no longer in production, the kids have to swap them at the end for today's currency and the silver coins are squirreled away until next year.)
This recipe makes one pudding, which depending on your preference can be served hot of cold (you'll find instructions for both). I love the hot pudding because it's a real showstopper – the pudding is placed on the table while hot brandy which has been lit is poured over the warm pudding.
Note: Pudding is best made 1 month prior to serving, store in fridge.
All ingredients should be room temperature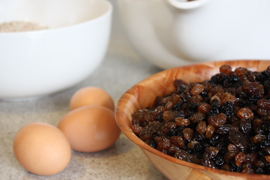 Tie paper or foil tightly with string

Stand for 10 minutes before turning out on a plate

……………………………………………………………………………………
Recipe

…………………………….
Makes 1 large pudding
Ingredients
Pudding
250g unsalted butter, softened, plus extra for greasing
250g (2½ cups) brown sugar
4 organic or free-range eggs, room temperature
130g (2½ cups) fresh breadcrumbs (grate day-old white bread)
2 tablespoons plain flour
2 teaspoons mixed spice
250g raisins
250g sultanas
250g currants
400ml brandy or rum, plus extra 100ml for hot pudding
Hard sauce (make on Christmas morning)
125g unsalted butter, softened
215g (1½ cups) sifted icing sugar
2 tablespoons brandy or rum
Method
1) In a large bowl, cream butter and sugar until pale and fluffy (I use an electric hand mixer). Then gradually beat in eggs.
2) In a separate bowl, mix flour, breadcrumbs and spice together.
3) In a separate bowl, mix fruit and stir in a full wine glass (200ml) of brandy or rum.
4) Add dry ingredients and fruit mix alternately to butter mixture. Stir until combined.
5) Grease a 2 litre pudding basin and line base with a circle of greased baking paper or foil (to ensure pudding does not stick when turning out). Pour pudding mixture into basin and top with another circle of baking paper or foil. Place lid of basin over this or cover with 2 layers of baking paper and/or foil and tie with string. Allow to stand for 24 hours.
6) To cook, place pudding basin in a large saucepan with a wire rack or tea towel lining the base. Fill with water, ensure a good 3cm of the basin rim is not under water. Cover and simmer, topping up water when necessary.
Cold pudding: Boil for 9 hours. Before storing, pour another wine glass (200ml) of brandy or rum over the pudding. Cool in the bowl, cover and refrigerate.
Hot pudding: Boil for 6 hours. Before storing, pour another wine glass (200ml) of brandy or rum over the pudding. Cool in the bowl, cover and refrigerate. On Christmas day, reheat in a large saucepan of simmering water for 3 hours. Stand for 10 minutes before turning out on a plate. When serving the hot pudding, place pudding on the table. In a small saucepan, heat half a glass of brandy until it is very hot. Carry saucepan over to pudding and light, then pour the flaming liquid over the pudding.
7) For hard sauce, cream softened butter with icing sugar until light and fluffy. Mix in brandy or rum and refrigerate until it becomes hard.
8) Serve pudding with hard sauce, cream, custard or ice cream.
Tip: I make fresh breadcrumbs in a food processor. Remove the crusts from white day-old bread slices, cut into cubes and process until finely chopped. Any leftovers can be frozen and used when required.