Alex's grandma lives in Valence, France. It's 100km south of Lyon and 100km north of Avignon. When Alex visits her grandma she always requests her favourite home-cooked dish, 'Poulet au Citron' and after cooking it for dinner last night I can totally understand why. The combination of sweet raisins, tangy lemon and velvety rum is oh so comforting and of-course delicious too!
It's a rustic one-pot dish which has been in the family since the early 1900s. You can imagine the 'Poulet au Citron' being served for special occasions, placed in the middle of the table and shared with rice and fresh crusty bread. For me, this dish has a real celebratory feel, the rum and raisins would make it perfect for a simple Christmas lunch or special dinner party, served with fluffy rice and buttery green beans.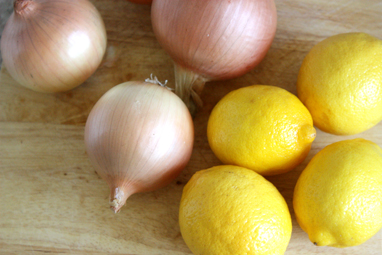 ……………………………………………………………………………………
Recipe
Serves 8
Ingredients
200g raisins
1 free-range or organic chicken, jointed (or substitute with 8-10 assorted pieces of drumstick, thigh and breast)
60g butter
4 onions, sliced
1 cup (250ml) rum
juice of 4 lemons, plus 3-4 pieces of peel
2 tablespoons plain flour
sea salt and freshly ground black pepper
handful of fresh flat-leaf parsley, coarsely chopped (optional)
Method
1) In a medium bowl pour over enough water to cover raisins (1½-2 cups), stir and cover. Allow to stand for 1 hour.
2) Heat half the butter in a large casserole or pan (medium-high heat). Season chicken pieces with salt and pepper and cook in batches skin side down, turning once until golden (5-7 minutes). Transfer to a warm plate and set aside.
3) Reduce heat (low-medium), add remaining butter, onions and a pinch of salt, stir frequently until translucent (5-7 minutes). Turn the heat up, add raisins and soaking liquid, add the rum and flambé (1 minute). Add lemon juice and peel and return the chicken pieces and juices to the casserole/pan, ensuring all the chicken is covered with liquid. Bring to the boil, reduce heat, cover and simmer for 1 hour.
4) Remove chicken to a plate, cover loosely with foil to keep warm. Remove and discard lemon peel. Add salt and pepper to taste. Add flour and whisk quickly. Bring liquid to the boil to slightly thicken (2-3 minutes). Check seasoning and adjust if necessary. Return chicken to sauce to warm through and take off heat.
5) Garnish with coarsely chopped parsley and serve with cooked basmati rice.
Tips:
– Ask your butcher to joint the chicken, they'll do a perfect job and it's usually free.
– If you don't have a gas stove and are unable to flambé (flame) the rum, use a long barbecue lighter or lit candle to light the alcohol at the edge of the pan. Stand back, turn your face and have the lid close by. You can also try heating the rum in a small pan before you flambé and add to the sauce. Checkout this helpful YouTube video on How to Flambé.