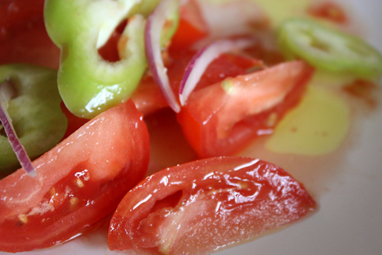 Every family has Christmas traditions, so every Christmas Eve Mum would bring out the Christmas ham. In preparation for the following day we'd enjoy a light dinner of ham off the bone, a beautiful tomato salad and fresh crusty bread (vienna loaf is best).
In reality, I love this tomato salad throughout summer, when juicy ripe tomatoes are in abundance. Depending on your taste buds, you may prefer this salad dressed with just olive oil and salt, as the tomato juices form part of the dressing. If however, your a vinegar lover like me, a splash of red wine vinegar makes this salad just perfect.
The best part is mopping up the juices with bite-sized chunks of soft bread, yum, yum, yum!
……………………………………………………………………………………
Recipe
Serves 4
Ingredients
2-3 medium vine ripened tomatoes, cut into wedges
1 medium banana chilli, sliced into rings (also known as Hungarian or bullhorn chillie)
1/4 spanish onion, thinly sliced
1-2 tablespoons olive oil
Red wine vinegar to taste (optional)
Sea salt to taste
Method
1) Arrange tomato wedges in a bowl, top with onion and chillies. Drizzle with olive oil, vinegar (optional) and sprinkle with salt. Gently toss and serve immediately.
Tips:
– Leftover tomato salad makes the best tomato relish the following day. Store the leftovers in an airtight container overnight, the following day gently fry (medium heat) for 5 minutes or until the tomatoes collapse.
– Never store tomatoes in the fridge, keep in the pantry in a cool, dark spot.
– Use green capsicum if you are unable to find banana chillies.