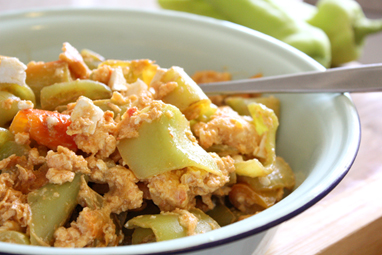 With summer in full swing and chillies on regular supply (thanks family!) I'm afraid you'll be seeing a few more of my quick rustic family favourites.
Typically eaten for breakfast or lunch, the charm of this dish is serving it the old fashioned way, in the middle of the table with a pile of fresh bread, yoghurt and a juicy tomato salad. Everyone helps themselves from the communal pan/bowl and the best part is wiping it clean with bite sized pieces of bread.
Any leftovers taste great the following day for a quick breakfast or lunch on buttered toast.
De-seed chillies by cutting the top off, then cut in half lengthways and remove the seeds and membrane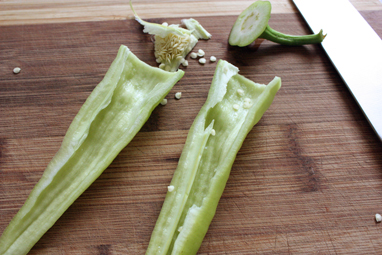 ……………………………………………………………………………………
Recipe
Serves 4
Ingredients
8-10 long banana chillies (also known as Hungarian or bullhorn chillies, if unavailable replace with 2-3 red or green capsicums)
Olive oil
1 medium tomato, blanched, peeled and roughly chopped (or 2-3 tablespoons of an Italian style tomato passata)
5 large organic or free-range eggs, lightly beaten
50g feta cheese, roughly crumbled
Sea salt to taste
Method
1) Wash and dry chillies, discard stems and seeds, roughly chop.
2) Heat a medium pan (medium-high heat), coat base with olive oil, add chillies and sprinkle with salt, stir frequently to avoid from burning or browning too quickly, fry until fragrant (5-7 minutes). Reduce heat to medium, add tomato, stir and fry until fragrant (2-3 minutes).
3) Reduce heat to medium-low, add beaten eggs, use a spatula to fold eggs (push mixture from the outside of the pan to the centre), sprinkle over cheese and fold again, continue to do this until eggs are almost cooked (3-5 minutes), remove from heat and allow to rest for 5 minutes before serving.
4) Serve in the middle of the table with fresh bread, yoghurt and
tomato salad.
Tips:
– For other variations of this recipe replace the feta cheese with cottage cheese or sour cream.
– To peel the tomato, wash, remove stem and cut an 'X' into the base no bigger than 2cm and no deeper than 3mm. Place tomato in a bowl, pour over boiling water and allow to stand for 1 minute. Carefully remove from hot water and peel when cool enough to handle.
– The easiest way to de-seed chillies is by cutting the top off and discarding the stem, then cut in half lengthways to remove the seeds and membrane.