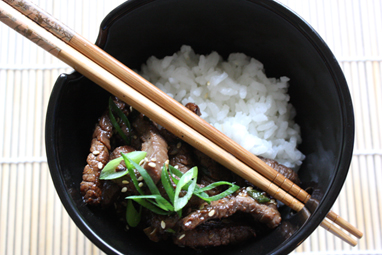 What is it about Asian food that makes you feel light and healthy. Maybe it's the balance of flavours, the fresh produce. Then again, maybe it's the smaller sized serving bowls that force you to eat less!
Although I love to cook I don't always have 3 hours to spare preparing a lavish feast during the week. So when a quick and easy restaurant quality recipe comes my way it excites me to think that I can have a fancy looking and tasting meal in just over 30 minutes. Seriously, why bother with take-away when you can eat just as quickly (and cheaply) without having to leave home.
The first time I tried this beef was at a Bondi bbq. The host, a friend with a Korean/Japanese background quickly prepared the beef with a simple marinade and then popped it on the barbie, after a few minutes it was all done. It tasted so good that I've been pestering him for the recipe since.
The best way to enjoy this Korean beef is with hot rice and a glass of warm sake.
……………………………………………………………………………………
Recipe

Serves 4
Ingredients
500g porterhouse or New York beef, thinly sliced into 5mm thick strips (you can also use scotch fillet or sirloin pre-cut stir fry strips available in supermarkets)
2 teaspoons sesame seeds, plus extra for serving, lightly browned
1/3 cup (80ml) soy sauce (I prefer Kikoman)
2 tablespoons white sugar
1 tablespoon sesame oil
2-3 shallots, finely chopped (white part and 6-10cm of green part), use some of the green part to garnish
Vegetable oil, for searing
For rice
2 cups (440g) medium grain white rice, rinsed until the water runs clear and drained
3 cups (750ml) cold water
Method
1) Add sesame seeds to a pan/wok (low-medium heat), gently shake and toast for 3-4 minutes or until lightly browned and fragrant. Remove from pan and allow to cool.
2) In a medium bowl combine soy sauce, sugar and sesame oil. Whisk to dissolve sugar (1-2 minutes). Add sesame seeds and shallots, stir to combine. Add beef, coat well, cover with plastic wrap and marinade for 20-30 minutes.
3) Meanwhile place the rinsed rice in a saucepan, add cold water, cover and bring to the boil. Reduce heat to low and simmer with the lid on for 12 minutes. Turn off heat and stand covered for a further 10 minutes. Fluff the rice with a fork and set aside until ready to serve.
Note: Keep a close eye on the rice as it may overflow while cooking, if it does just take the lid off for a few seconds, reduce the heat slightly, cover again and continue cooking.
4) Heat wok or bbq hotplate to very hot and lightly oil. Remove 1/4 of the beef slices from the marinade and sear for 15-30 seconds on each side or until cooked to your liking. Quickly clean the wok/hotplate with a paper towel, lightly oil and cook the 2nd batch. Continue cooking in batches, rest for 5 minutes, sprinkle over extra sesame seeds and shallots, serve with hot rice.
Tips:
– Ask your butcher to slice the meat into very thin strips.
– To slice your own beef, freeze for 15 minutes (this will make it easier to slice), remove from the freezer and slice thinly along the natural grain of the meat.