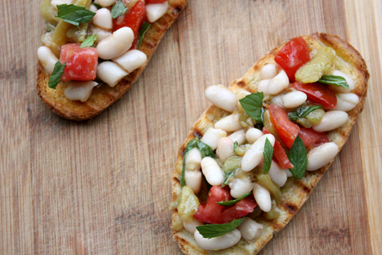 They say that the more colourful the ingredients on your plate, the better it is for you. I guess they'd be right with this summery bean salad, brought to life with fresh mint, garden tomatoes and sweet grilled chillies.
This would have to be one of my favourite summer salads which serves as the most delicious topping on grilled bread. If you already have a few grilled chillies in the fridge, this salad literally takes no more than a few minutes to bang together.
Serve as a light lunch, a rustic appetiser for guests or as a salad accompanying fish, salami or kjofte with a dollop of fresh yoghurt.
……………………………………………………………………………………
Recipe
Serves 4 as an appetiser
Ingredients
1 small garlic clove, crushed
400g can of white beans, rinsed and drained
2 medium tomatoes, roughly chopped
4-5 grilled chillies, stems and seeds discarded, flesh roughly chopped
1/3 cup fresh mint leaves, roughly torn
1/4 cup olive oil
Sea salt to taste
8 slices bruschetta, ciabatta or sourdough, brushed with olive oil and grilled
Method
1) In a medium bowl add beans, crushed garlic and mix well. Add tomatoes, chillies, mint, olive and salt, mix to combine and serve immediately on grilled bread.