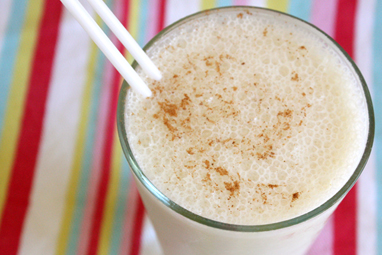 Sometimes in life it's the simplest recipes that are often the tastiest. I'm really not sure about the origin of smoothies. Perhaps they're inspired by tropical mocktails. All I know is that this banana smoothie makes the ultimate summer breakfast.
Although I love a good health shake, with yoghurt and honey, occasionally I enjoy a more indulgent smoothie with lots of ice cream, the consistency of a yummy thick shake. You only need 3 ingredients and the secret here is a pinch of ground cinnamon.
……………………………………………………………………………………
Recipe
Serves 1
Ingredients
1 large banana, roughly chopped
1 1/2 cups (375ml) cold milk
1-2 scoops of vanilla ice cream
Pinch of ground cinnamon
Method
1) Place all the ingredients in a blender and blend until smooth. Serve immediately with an extra dusting of cinnamon. The best blender under 200 will suit.
Tip:
If you're feeling really indulgent hold the cinnamon and replace with a dusting of cocoa/drinking chocolate.