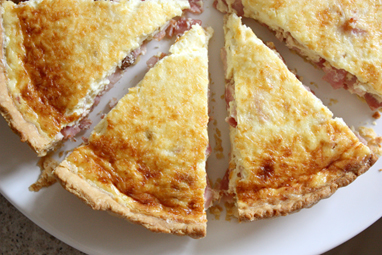 Grandma Babeth, who brought us the French Lemon Chicken with Rum and Raisins recipe is a bit of a raisin fan. Even her traditional quiche recipe has the unexpected twist of a handful of raisins. I know what you're thinking, raisins in quiche, how on earth can such a combination possibly work? Admittedly, I was a little concerned so I only added raisins to half of the quiche, but to my surprise I found the combination heavenly, even moreish. It's a bit like the sweetness of onions when they're cooked slowly, delicious.
Making the crust from scratch is easier than I thought and I even made mine by hand, without the aid of a food processor! It took a little bit of time and patience but the taste is so much better than the store bought options. What's really cute about Grandma Babeth's recipe is that rather than using baking beans or raw rice to blind bake the tart, she uses dried cherry pits, I just love the old fashioned way of doing things, nothing is ever wasted!
If you're not a raisin fan, just leave them out. You can even try other combinations like bacon and leek, roast pumpkin, goats cheese and caramelised onion. The options are endless, so get creative!
Line the base with foil and fill with pastry weights, uncooked beans/rice, then blind bake

…………………………………………………………………………………..
Recipe
Serves 8
Ingredients
Shortcrust Pastry
250g plain flour
125g cold unsalted butter, cut into small cubes
1 teaspoon fine sea salt
1 organic or free-range egg yolk, lightly beaten
4-6 tablespoons cold water
Filling
Olive oil
6-8 bacon rashers, rind removed, diced
3 organic or free-range eggs
1 1/2 cups (375ml) sour cream
1 cup (80g) Gruyere cheese, grated (or tasty cheese)
1/3 cup (65g) raisins (optional)
Pinch of grated nutmeg
Sea salt and freshly ground black pepper
Method
1) For the pastry, place the flour, salt and butter in a food processor and whiz until the mixture resembles fine breadcrumbs (15-20 seconds), or if you don't have a food processor use your fingertips and the palms of your hands to combine the flour and butter in a mixing bowl (5 minutes). If using a food processor tip the mixture into a mixing bowl, make a well in the centre then add egg yolk and 4 tablespoons of chilled water and stir with a butter knife until the dough just comes together. If it seems too dry add another 1-2 tablespoons of water (try not to make the dough too wet). Gently shape the dough into a smooth ball. Wrap in plastic and chill in the fridge for at least 30 minutes.
2) Roll pastry out on a lightly floured work surface to the thickness of a coin (3-5mm). Loosely drape the pastry over the rolling pin and gently place over a 23-25cm tart tin, 3-4cm deep, with a removable base. Evenly press the pastry into the edges of the tin and leave a little excess overhanging the sides. Chill for 30 minutes.
3) Preheat oven to 200°C.
4) Remove chilled pastry from fridge. Prick the base with a fork every 1-2cm. Line the base with foil and fill with pastry weights, uncooked rice or beans. Blind bake for 15-20 minutes or until the sides are lightly golden. Remove the foil and weights and return to the oven for another 5 minutes or until dry and there are no uncooked patches. Remove and allow to cool slightly (10-15 minutes). Using a sharp knife, trim off the excess pastry to be level with the rim, or if you prefer leave as is for a more rustic look.
5) Meanwhile, heat olive oil (or butter) in a frypan (medium heat). Add bacon and fry until softened and slightly crispy (5 minutes). Drain on absorbent paper and allow to cool.
6) Reduce oven temperature to 150°C. Beat eggs, sour cream, salt and pepper until well combined and smooth. Stir in the nutmeg, cheese, bacon and raisins (optional). Pour the filling into the pastry base. If you like, sprinkle over some extra grated cheese. Bake for 30-35 minutes or until the filling is set and golden on top. Cool slightly, then unmould and slice. Eat while warm or at room temperature with a simple green salad.
Tips:
– To test if the quiche is cooked, insert a knife into the centre, if it comes clean the quiche is ready.
– Watch video on how to make shortcrust pastry by hand
– Watch video on how to make shortcrust pastry with a food processor