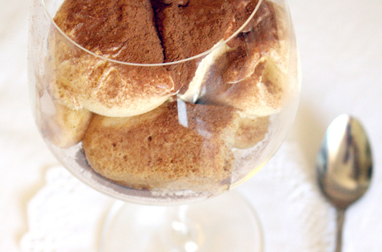 With Valentine's Day just around the corner, what better way to woo your sweetheart than with a heavenly dessert.
Tiramisu, Italian for 'pick me up' is one of my all time favourite desserts. I usually make the traditional mascarpone mix however, one night when I was feeling particularly peckish and a little lazy, I made up this quick ice cream version. It takes less than 5 minutes to put together and looks and tastes amazing.
Not only is it perfect for Valentine's Day, it's also brilliant for dinner parties and is guaranteed to impress!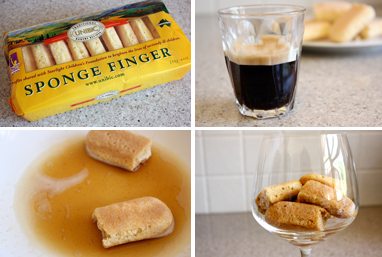 ……………………………………………………………………………………
Recipe
Serves  6 (to make for 2 see tip below)
Ingredients
2 shots espresso (or 2 heaped teaspoons of instant coffee dissolved in 1/4 cup warm water)
1 cup (250ml) water, room temperature
1/3 cup (80ml) Marsala (replace with Kahlua or Tia Maria)
18 sponge finger biscuits (1 packet)
1 litre good quality vanilla ice cream
Cocoa for dusting
Method
1) In a shallow bowl combine coffee, water and Marsala. Break biscuits in half and dip in
coffee liquid, evenly arrange the dunked biscuits into the base of 6 wine/cocktail glasses or tumblers. Spoon any leftover coffee mixture over the top of the biscuits.
2) Scoop 2 generous spoonfuls of vanilla icecream into each glass. Dust with cocoa and serve immediately.
Tip: To make this for 2, you'll only need 1/2 cup of coffee with a splash of liqueur and only 6 biscuits.