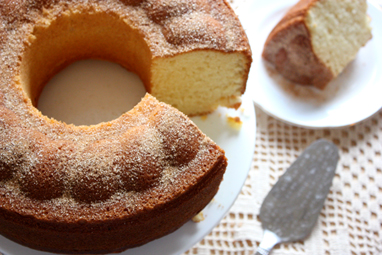 So you've just found out that people are coming over for afternoon tea and you have nothing to give them. What you do have are some kitchen staples; flour, sugar, eggs, milk and vegetable oil.
So in the 20 minutes it would take you to get in your car, find a park, pick a cake and get back home you could already have one baking away in the oven and at a fraction of the cost.
Here's a really quick and yummy Eastern European teacake everyone should try. The recipe comes from my mum's neighbour, who inherited it from a friend some 29 years ago, so it's great that her recipe can be shared here at Village Feast.
It's quite a dense and doughy cake which smells and tastes a little like doughnuts; thanks to the cinnamon sugar. The good thing is that it's relatively healthy (there's no butter!) and there are tons of variations, you can add lemon rind, drizzle with syrup or sprinkle with icing sugar, you could even try making little cupcakes for the kids.
……………………………………………………………………………………
Recipe
Serves 8-10
Ingredients
3 organic or free-range eggs, room temperature
1 cup (220g) caster sugar
1 cup (250ml) vegetable oil (e.g. canola or sunflower)
1 cup (250ml) full cream milk, room temperature
3 cups (375g) self-raising flour, sifted
Cinnamon sugar for sprinkling (make your own by combining 2 teaspoons caster sugar with 1/2 teaspoon ground cinnamon)
Method
1) Preheat oven to 160°C. Grease a 20-23cm bundt tin with
vegetable oil.
2) Using an electric hand-held mixer (low-med setting), beat the eggs and caster sugar until light and creamy (7-10 minutes). Stir in vegetable oil and milk. Gradually fold in flour, 1 cup at a time, scraping the edges as you go until well combined and there are no lumps. Spoon the mixture into the prepared cake tin and bake for 45-50 minutes or until golden on top. You can also check if the cake is ready by inserting a skewer, leave it for 5 seconds and if it comes out clean the cake is cooked, if it's slightly sticky cook for a further 5 minutes and check again. Turn out to cool on a rack or serving plate and immediately sprinkle with cinnamon sugar.
3) Serve while warm or at room temperature with a scoop of vanilla ice cream or a dollop of freshly whipped cream.
Tip: If you don't have a bundt tin use a round 20-23cm springform cake tin with greaseproof paper on the bottom.
Pin It