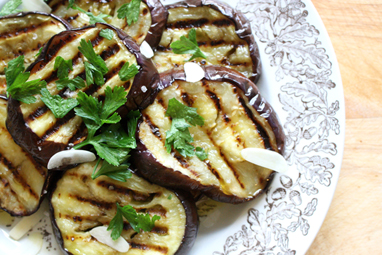 The secret to beautiful tasting eggplant is two-part. Firstly, select firm, medium sized fruit with unblemished skin, rather than extra large ones with wrinkly skin. Secondly, it must be cooked until the flesh collapses and is soft and mushy, under-cooking it will result in spongy and flavourless eggplant.
Grilling eggplant is a perfect way to enjoy its flavour. Team with thinly sliced garlic and a scattering of fresh parsley for a quick and delicious summer side dish.
Brush with olive oil and sprinkle with salt before grilling

……………………………………………………………………………………
Recipe
Serves 4 as appetiser
Ingredients
2 eggplants, cut widthways into 1.5-2cm thick slices
Extra virgin olive oil for brushing, plus extra for drizzling
Sea salt
1-2 garlic cloves, thinly sliced
Parsley, coarsely chopped to garnish (optional)
Method
1) Preheat a griddle pan or bbq grill over medium-high heat. Brush eggplant slices with olive oil and sprinkle with sea salt on both sides. Grill eggplant slices in batches, turning once until cooked through and the flesh has collapsed slightly (5-7 minutes on the first side, 4-5 minutes on the reverse side). Place the cooked eggplant in a medium dish, sprinkle the first layer with some of the garlic slices, tightly cover with a lid or sheet of foil to keep warm. Repeat with the remaining grilled eggplant, sprinkling with garlic between each layer. Drizzle the final layer with olive oil, cover and allow to stand for 10 minutes, this will help the flesh soften.
2) Before serving drizzle with extra olive oil, sprinkle with sea salt and scatter with parsley. Enjoy while warm or at room temperature with grilled meat or fish, or on toast with a good quality goats cheese.
Tip: Grill eggplant in half the time on an electric cafe-like grill (similar to a sandwich press).