I was wondering how many recipes exist with feta as the hero ingredient. My family alone has over a dozen favourites. Enter, new favourite feta recipe from Rasht, north of Iran. This pancake recipe, which is more like a cheese slice is quick and easy to prepare and seriously tastes heavenly.
I made this pancake before heading over to see a friend, she has a young baby and is way too busy to prepare lunch so I took along a couple of slices. We enjoyed it with a garden salad and my homemade lutenka and it was sensational!
Traditionally served as an apetiser, it also makes a delightful light lunch.
Use a spatula to cut into 6-8 pieces and turn each piece over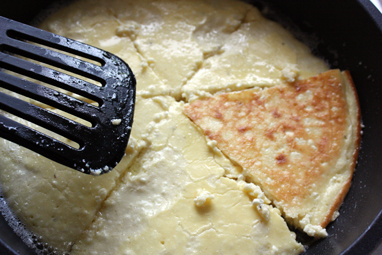 ……………………………………………………………………………………
Recipe
Serves 4-6
Ingredients
200g feta cheese (Bulgarian feta is best)
4 tablespoons (80ml) full cream milk
2 tablespoons (12g) plain flour
5 tablespoons (100ml) olive oil or vegetable oil
3 free-range or organic eggs, lightly beaten
Freshly ground black pepper to taste
Method
1) Mash feta cheese with a fork in a medium bowl until evenly crumbled. Add milk and stir through, then add flour and mix. Add lightly beaten eggs, 1 tablespoon of oil and pepper to taste, beat with fork until mixed well.
2) Heat a non-stick pan (25-30cm) over medium heat. Add remaining oil and allow to heat up. Pour in mix and spread evenly with the back of a spoon. After 3-5 minutes reduce heat to low and allow to cook for 15-20 minutes.
3) While still in the pan use a spatula to cut the pancake into 6-8 pieces and turn each piece over to lightly brown on the reverse side. Cook for a further 15-20 minutes and add a little more oil to the pan during frying if necessary.
4) Serve while warm or at room temperature as an appetiser or a light lunch with bread and salad.