Most cultures have their special version of the humble crépe, in the Balkans they're called palachinki. Like other traditional recipes this one calls for a couple of basic ingredients, so you can make them at any time. Unlike the French who like their's Suzette, I like my baba's unique garlic and walnut dipping sauce.
If your not up for the robust taste of raw garlic, you can always opt to eat them plain with homemade jam or perhaps smothered with nutella and rolled up. Occasionally I go for ajvar (chilli spread) and a generous amount of crumbled feta…yum!!! However you like to eat your palachinki I encourage you to try this recipe, the combination of garlic and walnuts is really interesting and delicious too.
With lent in full swing, many Christians are fasting and eliminating all meat and dairy for a vegan diet. The last week of lent calls for leaving oil out too! Palachinki are a common staple during this period. Simply leave out the egg and milk (and the oil during the final week) and add a little more water.
Layer the palachinki
Enjoy the interesting combination of garlic and walnuts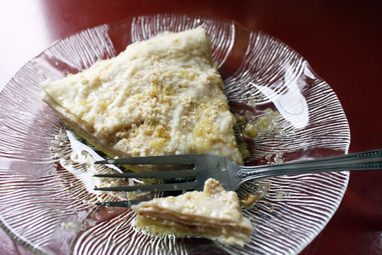 ……………………………………………………………………………………
Recipe
Makes 6-8 palachinki
Ingredients
Batter
1 cup (125g) plain flour, sifted
1/4 teaspoon bicarbonate soda
1/4 teaspoon salt
1 large egg
1 3/4 cups (440ml) water (or 1 cup water and 3/4 cup milk)
1 tablespoon (20ml) vegetable or light olive oil, plus extra for greasing
Garlic dipping sauce
1-2 garlic cloves, finely grated/crushed
1 1/2 tablespoons (30ml) olive oil, plus extra for drizzling
1/4 teaspoon salt
3/4 cup hot water
1/2 cup walnuts, coarsely crushed for sprinkling
Method
1) Sift the flour, bicarbonate soda and salt into a medium mixing bowl and make a well in the centre. Break the egg into the well and work in some of the flour with a fork. Add water, olive oil and loosely incorporate with fork, then whisk until smooth and airy (I use a hand held electric beater for 3-5 minutes).
2) Heat a medium non-stick frying pan (low-medium heat). Wipe the pan with an oiled tissue/paper towel. Pour mixture into a jug or use a ladle. Lift pan from the heat, then pour/ladle in the batter and swirl to spread to the edges of the pan so you get a nice thin, even layer (only ladle in enough batter to cover the bottom thinly). Set back over heat, cook for 2-3 minutes until the batter appears dry on top, gently peel around the edges with the spatula and flip using your fingers to aid (be gentle as it will tear easily). Cook for a further 2-3 minutes until golden in colour and flip one more time, this time the palachinka will bubble and puff up as the moisture escapes. Transfer to a plate and keep warm in a low oven while you cook the rest. Oil the pan before frying each palachinka.
Note: Stir the batter every so often to avoid a gluggy mixture, it should be consistent and watery.
3) Once all the palachinki are cooked, prepare your garlic dipping sauce. Combine garlic, salt and olive oil in a medium bowl and mix well. Stir in the boiling water and allow to cool slightly (3-5 minutes).
4) Quickly bath/soak each palachinka in the garlic sauce, place on a plate then sprinkle with crushed walnuts. Repeat the process and finish with a final drizzle of the sauce, a sprinkling of extra walnuts and a drizzle of olive oil. Slice and serve while warm or at room temperature.
Tips:
– To make this a vegan recipe leave out the egg and milk and replace with extra water.
– Rather than stacking, roll each palchinka into a cylinder and cut in half to make easy to eat portions.