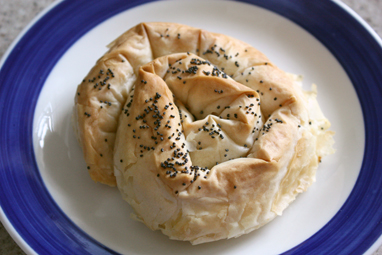 Earlier this year I posted a very labour intensive and complicated recipe for Maznik, I promised to follow up with a cheats version, so here it is!
It's a combination of several recipes recommended by family and friends. It tastes a little bit more like burek than maznik, but tastes delicious nonetheless.
The finished product looks and tastes more complicated than the effort required, so go for it and impress your friends the next time you're entertaining, they make a lovely entree served with a dollop of lutenka.
……………………………………………………………………………………
Recipe
Makes 12 pinwheels
Ingredients
22 filo pastry sheets (375g packet)
500g ricotta cheese (you can also cottage cheese but I find it too runny)
2 organic or free-range eggs, lightly beaten
220g feta cheese, coarsely crumbled
100g butter, melted
150ml olive oil
Black poppy seeds (or sesame seeds), for sprinkling
Method
1) Thaw puff pastry at room temperature for 2 hours.
2) Preheat oven to 180ºc and line two trays with baking paper.
3) Combine ricotta, eggs and feta cheese, season to taste and mix well to combine, refrigerate until required.
4) Combine melted butter and olive oil.
5) Lay a sheet of filo on a clean work surface with the longest edge facing you. Brush all over with butter and olive oil mix, top with another sheet of filo and brush again. Cover remaining filo with a tea towel to prevent from drying out. Spoon 2-3 tablespoons of the filling along the edge closest to you, leaving 3cm from the bottom and each edge. Fold in the sides and carefully roll the pastry over the filling into a long cylinder, brush the exposed pastry edge with extra butter and oil to seal. Gently roll into a snail-like coil, being careful not to split the filo, tuck the end underneath to prevent the coil from unraveling and place on a baking tray. Repeat with the remaining pastry and filling. Brush tops with remaining butter and oil. Sprinkle with poppy seeds and bake for 18-20 minutes or until lightly golden. Cover loosely with foil partway through if filo browns too quickly.
6) Serve while hot or at room temperature with homemade lutenka.
Tips:
– Make ahead of time and refrigerate or freeze cooked pinwheels until required and reheat in the oven before serving
– When rolling the filo, make sure you keep it loose. Rolling to tightly will cause the pastry to split.
Pin It