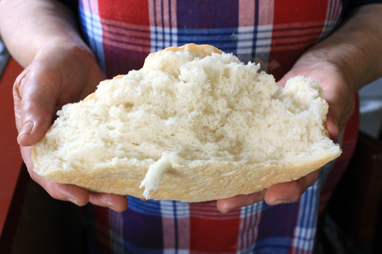 It's Easter this week and I have made it my mission to post as many traditional recipes as I possibly can.
While fasting, a staple is homemade bread, but my baba's bread isn't any bread. Many (including myself) have tried to replicate her recipe and technique and although it tastes good, we just can't seem to get it as fluffy. Everyone in my family agrees that no one makes bread better than baba. We all love it so much that we've lovingly named it 'Baba Bread'. There's no mystery about the ingredients (flour, water, yeast, salt) but it's the technique that makes this deliciously soft bread a favorite.
Making bread is easy, it's an ancient technique and I'd love for you to give it a go. You'll love the delicious and sweet yeasty smell that fills your home.
……………………………………………………………………………………
Recipe
Makes 1 medium loaf
Ingredients
Sponge (yeast mix)
1 tablespoon plain flour
1 tablespoon dried yeast (or 2 x 7g satchel)
1/4 cup (60ml) lukewarm water
Dough
4 1/2 cups (560g) plain white bread flour ('00'), plus extra for dusting
1 1/2 teaspoons salt
2 1/4 cups (560ml) lukewarm water
Method
1) Stir yeast, flour and water in a small bowl until smooth (1 minute). Allow to rest (7-10 minutes) or until double in size.
2) Meanwhile sift flour and salt into a large bowl and make a well in the centre.
3) Once the sponge (yeast mix) has doubled in size add to the centre of the well and some of the lukewarm water. Begin to slowly incorporate with your fingers. Gradually add all the water and as the dough starts to come together use one hand to scrunch while the other turns the bowl until the dough starts to feel smooth and moves as one (7-10 minutes). Every so often scrape off some of the dough stuck to your hand with a spoon. To finish, pull the dough from the outside edge into the centre with your finger tips until you have a ball. Using the edge of your hand make a cross on top (baba's tradition to reminder us that bread is from God). Dust the top with flour and cover with a tea towel. Allow to rest for 30-60 minutes (depending on the weather) or until double in size.
Note: The dough will be wet and sticky, however this makes a very soft bread. For a dry dough which is easier to knead add a little more flour.
4) Oil a 20-24cm round cake tin and dust the base with flour.
5) Once the dough has risen knead for a further 3-5 minutes in the same bowl. To finish, pull the dough from the outside edge into the centre with your finger tips until you have a lovely neat ball. Turn the dough over so that the top is smooth, dust with flour and place into the oiled and flour dusted cake tin. Loosely cover with a clean tea towel an allow to rest for a further 30 minutes.
6) Preheat oven to 200ºc.
7) Bake for 10 minutes at 200ºc. After 10 minutes the top should start to brown slightly, cover the top with a sheet of foil and bake for a further 10 minutes. Remove the foil and reduce oven temperature to 100ºc and bake for a final 10 minutes (30 minutes in total).
8) Remove bread from tin and eat immediately or wrap in a clean tablecloth (or a couple of tea towels) to keep warm.
Tips:
– The wetter the dough the softer your bread will be. For a firmer dough/bread, add more flour.
– Keep any leftover bread in the fridge for up to 5 days and reheat in the microwave or grill.
Pin It