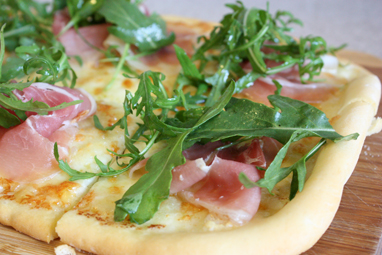 Last year my gorgeous husband and I spent three weeks celebrating our wedding anniversary in New York City. During our stay in Manhattan we sampled a lot of food and ate at some incredible restaurants, including the famous Balthazar, Lupa by Mario Batali, Public, DBGB, Peasant, Craft and Inoteca…just to name a few. Naturally one thing we ate a lot of was pizza; because if there's one thing New Yorkers really know, it's pizza!
Outside the The Standard, Meatpacking, NYC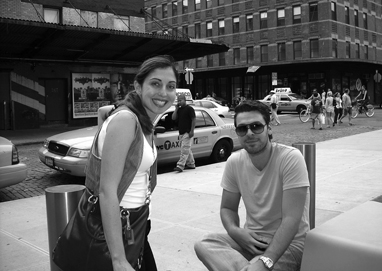 We had many variations, traditional margarita, white cheese and clam and a divine goats cheese, pancetta and caramelised onion pizza by Batali. For me the highlight pizza was a really simple thin crust white cheese, prosciutto and rocket combo from Emporio. It was heavenly! And I have been trying my best to replicate it ever since.
My hubby in front of the famous Lombardi's Pizza, Soho, NCY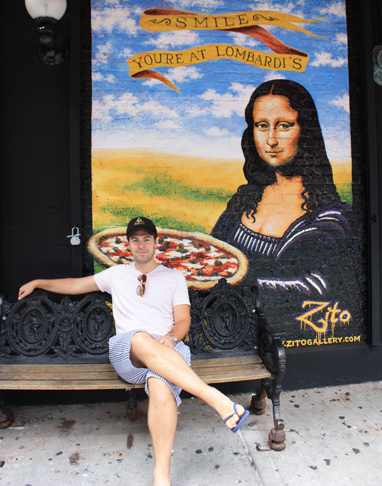 The pizza dough recipe is from an Italian friend that runs a small pizza bar. The secret to the fluffy dough is the addition of milk. Making pizza dough from scratch does take a little effort but it really isn't that hard. If you're pressed for time replace with a thin Lebanese pita bread or flour tortilla/wrap.
Once you're an expert, you can get creative and try all sorts of variations, we have been enjoying a beautiful fig and goats cheese pizza thanks to Sprouted Kitchen. The only danger here is that you'll never want to eat pizza out again!
Recipe
Makes 3 smaller or 2 large pizzas
Ingredients
Pizza dough
Sponge (yeast mix)
1 x 7g satchel dry yeast
1/2 teaspoon caster sugar
1 tablespoon bread flour
1/4 cup (60ml) lukewarm water
250g (2 cups) bread flour, sifted, plus extra to dust
1/2 teaspoon salt
1 tablespoon extra virgin olive oil, plus extra for brushing
2 tablespoons milk, room temperature
130ml (1/2 cup) lukewarm water
Ground semolina flour for dusting (optional)
Topping
120g taleggio cheese, cut into cubes
160g bocconcini cheese, torn or thinly sliced (2-3 balls per pizza)
Extra virgin olive oil, for drizzling
Sea salt
2 handfuls rocket leaves, washed and dried
1-2 tablespoons extra virgin olive oil
Juice of 1/4 lemon
Sea salt and freshly ground black pepper to taste
12 extra thin slices of prosciutto
Method
1) Stir yeast, sugar, flour and water in a small bowl until smooth (1 minute). Allow to rest (7-10 minutes) or until doubled in size.
2) Meanwhile sift flour and salt into a large bowl and make a well in the centre.
3) Once the sponge (yeast mix) has doubled in size add to the centre of the well, along with the olive oil, milk and water. Begin to slowly incorporate with your fingers, as the dough starts to come together turn out onto a flour dusted surface and knead with both hands until the dough starts to feel smooth and elastic (5-7 minutes). Roll the dough into a neat ball, dust the bowl with flour and place the dough in the bowl, brush the top with a little oil to prevent a crust from forming. Cover with a clean tea towel and stand in a warm place for 2-3 hours until doubled in size.
4) After 2-3 hours preheat oven to 220ºc and place a large flat baking tray (I use a Bessemer oven pan), pizza stone or granite slab on the bottom shelf.
5) Remove the dough to a flour-dusted surface and knead it around a bit to knock the air out. Divide into two or three portions and roll each into a ball. You can use the dough immediately or keep it wrapped in plastic wrap, in the fridge (or freezer) until required. If using straight away, place one of the balls on a lightly floured surface and use the palm of your hand to flatten into a round or oval shape (depending on your tray). Gently push out the dough with your fingertips until 5mm thick, leaving a slightly thicker edge to prevent the topping from running off, alternatively use a rolling pin to evenly roll out. Place on a sheet of aluminum foil which has been brushed with olive oil and dusted with ground semolina flour (use plain flour if unavailable). Allow to stand for 15-20 minutes. Repeat with the remaining dough.
Note: If you have guests coming over and would like to get the rolling out of the way simply stack the pizzas on sheets of foil, being sure to brush the top of each pizza base with olive oil to avoid the dough from sticking, cover with plastic wrap and pop them into the fridge until required.
6) Have the two cheeses, olive oil, salt and pepper close by then carefully remove the pre-warmed tray, pizza stone or granite slab from the oven using a triple-wrapped tea towel and place one of the pizza bases on it. Working quickly as the dough will begin to bubble, scatter over bocconcini and taleggio, drizzle over olive oil and sprinkle with sea salt. Bake for 8-12 minutes, or until the base is crisp and golden.
7) Meanwhile prepare the rocket. In a medium bowl combine olive oil, lemon juice, sea salt and freshly ground black pepper, whisk vigorously with a fork to emulsify, add rocket, using your fingers gently toss to coat. Set aside until required.
8) Place pizza on a cutting board, cut into 4 slices (6 slices if oval/rectangular shaped), drape prosciutto over each slice. Scatter the dressed rocket over the hot pizza and serve.
Tip: Once you have mastered making beautiful crisp pizzas, use the same dough recipe to make a calzones.