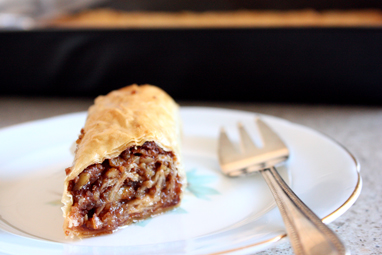 Urania, my childhood neighbour made the best baklava, so much so that my sister and I pressured our mum into mastering her recipe. She was very particular about using only the freshest of ingredients and about the process. The walnuts had to be crushed with a glass bottle rather than chopped as she believed the flavour was better, she also insisted that stale homemade bread be used rather than processed white bread.
I'm not exactly sure which part of Greece Urania was from as she is no longer with us, all I know is that she was from a village near Athens. What's obvious about this recipe, is that it's a genuine village recipe as it calls for stale breadcrumbs, probably because it was cheaper than adding extra nuts. The breadcrumbs are genius, as they help to absorb the syrup, making this baklava the perfect balance of flaky pastry, crunchy nuts and sugary heaven.
Recipe
Makes 45
Ingredients
2 tablespoons (20g) sesame seeds
500g walnuts
2 slices day old white bread, crusts removed use ciabatta or similar)
1/3 cup (70g) caster sugar
3-6 tablespoons (25-50g) ground cinnamon
250g unsalted butter, coarsely chopped
1/3 cup (80ml) vegetable oil (e.g. canola or sunflower)
500g filo pastry sheets, thawed at room temperature for 2 hours
(this is approx. 1.5 x 375g packets)
Syrup
3 cups (660g) caster sugar
2 cups (500ml) water
Lemon wedge
3 tablespoons (65ml) honey
Method
1) Preheat oven to 150°C and toast sesame seeds on a tray for 5-10 minutes or until lightly golden and fragrant, cool.
2) Crush walnuts using a bottle or rolling pin (you can also finely chop).
3) Crumb stale bread in a food processor or by rubbing between hands.
4) Increase oven temperature to 180°C.
5) In a bowl combine sesame seeds, walnuts, bread crumbs, caster sugar and cinnamon, mix well and set aside.
Note: Depending on personal taste, you may prefer to add only 3-4 tablespoons of cinnamon.
6) Heat butter and oil in a saucepan over a low heat until butter is melted, set aside and keep warm.
7) Brush a large rectangular baking tray (or two smaller trays) with butter and oil mix. If necessary cut filo sheet length to fit into tray snugly and cover with a damp tea towel to prevent from drying out.
8) Lay a sheet of filo on clean work surface with the longest edge facing you. Working quickly, brush all over with butter and oil mix, top with another sheet of filo and brush again, repeat 2 more times (you should have 4 sheets). Cover remaining filo with a tea towel. Scatter evenly with a 2 handfuls of the nut mixture then roll lengthwise into a long cylinder, if necessary brush the exposed pastry edge with extra butter/oil to seal, then place in baking tray. Repeat with remaining filo and nut mix and brush top with butter/oil.
9) Refrigerate until firm (15 minutes), then cut on a diagonal into 5cm diamonds with a sharp knife. Bake for 40-50 minutes or until lightly golden. Cover loosely with foil partway through cooking if top browns too quickly.
10) Meanwhile, for syrup, combine sugar and water in saucepan and bring to the boil, then reduce heat to low and simmer for 20-30 minutes or until syrup thickens. Take off heat, add lemon wedge and stir in honey. Allow to cool to lukewarm (blood temperature).
11) Cool baklava slightly (2-3 minutes), remove lemon wedge from syrup and evenly pour over. Allow to stand for at least 2 hours (preferably overnight) before refrigerating.
12) Serve at room temperature with an espresso or Turkish coffee.
Tips:
– Baklava will keep refrigerated in it's tray for up to 2 weeks.
– Baklava also freezes well for up to 3 months.
– Freeze fresh walnuts in an airtight bag for up to 3 months.
Pin It