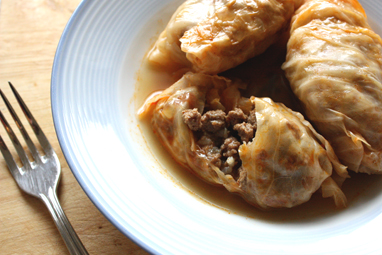 When I think comfort food, I think sarmi, or stuffed cabbage leaves. It's up there on my top ten list of favourite winter dinners. For me it's the combination of deliciously sour pickled cabbage leaves, stuffed with a flavoursome mix of onion, beef mince, speck and rice, brought to life with a hint of paprika.
I used home pickled cabbage leaves, but don't let this stop you! Unlike a few years back, pickled cabbage leaves can now be found at major supermarkets and select delis with other Balkan pickled products like chillies.
Recipe
Serves 6-8
Ingredients
2 tablespoons olive oil
1 onion, peeled and finely diced
80g speck, skin removed and finely diced (if unavailable replace with bacon)
800g beef, minced
1-2 garlic cloves, finely chopped
1/2 cup (110g) medium grain rice, washed and drained
1-2 teaspoons mild paprika
White pepper
Sea salt and freshly ground black pepper
20-30 pickled cabbage leaves (if too large, cut in half)
1.5 litres boiling water
Thickening sauce (zaprshka)
2 tablespoons olive oil
2 heaped tablespoons plain flour
1 teaspoon mild paprika
Sea salt and freshly ground black pepper
Method
1) Heat oil in a large frying pan (low-medium), add onions and a sprinkling of salt, saute without colouring (5 minutes).
2) Turn heat up (medium), add speck and cook until golden (2-3 minutes).
3) Turn heat up (high) and add beef mince, stir continuously until meat browns (8-10 minutes).
4) Reduce heat to medium, add garlic and cook until fragrant (1 minute) add rice and stir until translucent (2-3 minutes).
5) Add paprika and cook until fragrant (1-2 minutes) remove from heat and add white pepper, sea salt and freshly ground black pepper to taste. Allow to cool.
6) In a medium heavy based pot, place 2-3 cabbage leaves on the base. If the cabbage leaves are too sour, soak in cold water for up to 30 minutes. Drain cabbage leaves in a colander over a large bowl. Place a cabbage leaf in the palm of your hand with the thickest part closest to you, spoon 2-3 tablespoons of the beef mix and fold over each edge to form a neat cylinder. While holding the roll over the pot gently squeeze some of the excess liquid to create a tight sausage, place on the bottom of the pot. Continue until all the mix is used up, layering the sarmi (there will be 2-3 layers).
Note: When filling and rolling, follow the natural curve of the cabbage leaves.
7)Â  Cover with 2-3 cabbage leaves and place a medium plate on top to help weigh down the sarmi.
8) Pour boiling water over the sarmi until completely covered (only part of the plate should be covered with liquid). Cover with lid and bring to the boil.
9) While you wait for the sarmi come to the boil, prepare the thickening sauce. Heat a small saucepan over medium heat, add olive oil then flour and stir frequently with a wooden spoon, being careful not to burn the flour (3-5 minutes). Have a ladle and whisk ready to go. When the flour starts to smell like it's cooking do the sizzle test by dropping a tiny amount of the flour into the hot sarmi liquid, if it sizzles it's ready, if not, continue cooking flour for another minute and test again. Turn off heat and stir through paprika, add 2 ladles of cooking liquid and whisk vigorously, once incorporated add another 2-3 ladles and whisk again until incorporated, continue to do this until you have a smooth slurry-type roux (3-5 minutes). Add the thickening sauce to the cooking sarmi, taste and add extra salt (or dried vegetable stock, e.g. Vegeta/Massel) and pepper. Cover and reduce heat to simmer, cook for 20-30 minutes or until rice is cooked.
Note: Shake the pot every so often to help the sarmi cook evenly.
10) Serve while hot with crusty bread.
Tips:
– Pickled cabbage leaves are available at select supermarkets and most delicatessens.
– Speck is a salt-cured and smoked ham, replace with bacon if unavailable.
– Do not stir while cooking as it will damage the rolls, just shake the pot every so often.
– Store left over cabbage leaves in brine in the refrigerator.
Pin It