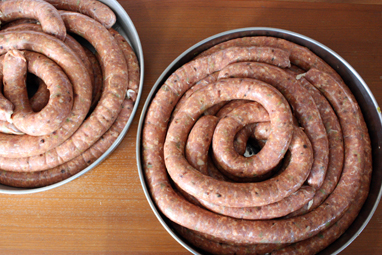 Making homemade sausages and salami is an annual family tradition for many European families. For my family, it has always been the women that make the 'kolbasi' and it happens during the middle of winter, when the temperature is below 17°C and the air is crisp and dry.
In the village, kolbasi were typically made at the beginning of January, in time for the Orthodox Christmas. The pig was slaughtered and all of the off cuts would find their way in the sausages, so that nothing was wasted. This included the tongue, lungs and spleen, however it was important to poach the organs before adding to the kolbasi mix.
Here in Australia, we use a basic pork mince with a medium amount of fat. You can mince the meat at home, or to make life easier just ask your butcher to mince it for you. To flavour the kolbasi, softened leek and a mix of chillies and peppers are added. Other recipes call for mint and garlic, the combination really is personal preference.
Once prepared, the kolbasi are hung to dry for 3-4 days or smoked and then fried up and enjoyed with a bountiful amount of fresh bread.
Baba, mum and I made 38 kolbasi, 50cm in length to keep up with family demands, namely my husband, who will happily eat them for breakfast, lunch and dinner! If however you have less people to share with, you can certainly make less.
Recipe
Makes 38 kolbasi (50cm in length)
Ingredients
10 leeks, white and light green part finely chopped, dark green outer leaves discarded
310ml (1 1/4 cup) olive oil
5 tablespoons sea salt
200g mild crushed paprika/chillies, lightly toasted (if available, replace with whole dried chillies, toasted and finely chopped/crushed)
15kg pork neck, belly and/or shoulder, finely minced with medium fat (ask your butcher to mince)
7 tablespoons (50g) mild paprika, finely ground (add 2 tablespoons of hot paprika if you prefer)
5 teaspoons ground white pepper
3 teaspoons freshly ground black pepper
250g thin pork intestines (all natural sausage casings are available from your butcher)
You will need:
– Meat mincer with sausage attachment
– Large work surface
– Cooking string cut into 20cm lengths
– Paper towels
– 3m rod undercover to dry kolbasi
Method
1) Heat a large pot over medium to high heat, coat base with 3 tablespoons olive oil and add leek. Mix continuously for 10-15 minutes until softened and collapsed but not browned or burnt as this will taste bitter. Set aside and cool to room temperature.
Note: The leek can be prepared the night before and refrigerated.

2) Heat oven to 160°C and arrange crushed paprika/chillies and toast until darkened and fragrant (10-15 minutes), stir regularly to avoid burning. Remove from oven and allow to cool.
Note: If using whole dried chillies, toast whole and finely chop/crush when cooled.
3) Clean intestines in cold water and drain, repeat process 2-3 times. Cut into 1 metre lengths and keep in cold tap water to avoid from drying out.
4) Setup meat mincer with sausage attachment.
5) On a large clean table spread out meat mince, add leek, crushed paprika/chillies, mild paprika, white and black pepper, and remaining salt and oil. Scrunch and knead mixture until sticky and well combined (10 minutes). Heat a little oil in a frying pan over medium heat. To taste the seasoning roll 1-2 tablespoons of the meat mix into a ball then flatten into a patty, cook 2-3 minutes on each side until cooked through. Taste, adjust seasonings if required.
6) Carefully slide one of the cut intestine/sausage casings onto the sausage making nozzle, leaving 2cm un-tied hanging over the edge. In case you don't have intestine casings, suppliers like DCW Casing will help you out. Stuff meat into the top of the machine and feed the mince through, sliding the casing off the nozzle as the mince comes out, two people make this job easier as one winds the other gently pulls and holds the sausage. Leave 2cm of intestine unfilled at the end and run your hands over the sausage to expel excess air, place in a tray in a coil. Repeat with remaining mince and intestines.
7) Using kitchen string tie each sausage in half with a tight knot and then tie onto elevated rod. Once all sausages are hung place folded paper towels between where the sausages are touching to help them dry out evenly. Dry for 3-4 days in a cool dry environment under cover and below 17°C, e.g. shady balcony, garage.
Note: It's important that there is no sun or rain, a gentle breeze is perfect. If the temperature exceeds 17°C store sausages in the fridge and re-hang if the weather improves, otherwise continue drying in fridge. If you live in a snowy environment do not dry outside as the kolbasi will freeze rather than dry.
8) Once dried store kolbasi in airtight containers or freezer bags in refrigerator for 3-4 days or freeze for up to 3 months.
9) To cook, heat a little oil in a large non-stick frying pan (low heat). Cut cold sausages into 5cm lengths and place cut side down to seal the end, once cooked turn over and seal other end. Turn on side and cook all over until golden. Serve as meze, or as a meal white bread and cabbage salad.
Tips:
– Mild crushed paprika is available from most supermarkets.
– If you choose to add lung, spleen and tongue be sure to poach in simmering water for 10-15 minutes before mincing.
– Homemade kolbasi taste delicious in a white bean soup (graf).
Pin It