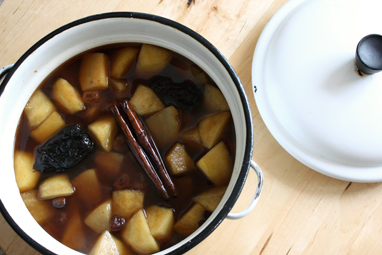 It has always been a family tradition to regularly enjoy a warming bowl of fruit compote on chilly winter nights. Not only is it quick and easy, it's also sugar and fat free!
There are no hard rules with compote, you can add whatever fruit takes your fancy, I like a combination of dried prunes, sultanas, fresh pear, apple and quince. Feel free to experiment, you may like to add dried figs or apricots.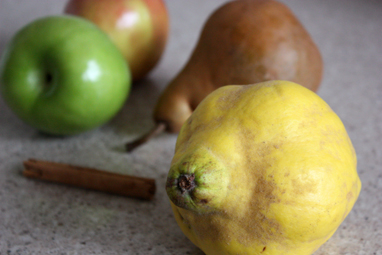 ……………………………………………………………………………………

Recipe
Serves 2-4
Ingredients
3 cups (750ml) water
1/2 quince, peeled, cored and diced (optional)
2/3 cup dried prunes
1/2 cup sultanas
1 cinnamon stick (if unavailable add 1 teaspoon ground cinnamon)
1 pear, peeled, cored and diced
1 Granny Smith apple, peeled, cored and diced
1 Pink Lady apple, peeled, cored and diced
Method
1) Combine water, quince, prunes, sultanas and cinnamon stick in a medium saucepan, bring to the boil then reduce heat and simmer for 5-8 minutes. Add diced pear and apples, bring to the boil and simmer uncovered for further 5 minutes. Remove cinnamon stick, spoon into serving bowls and enjoy while hot.
Note: Drizzle with honey if you prefer your compote a little sweeter.
Tips:
– Fruit can be left unpeeled with skin on.
– For an easy dessert serve fruit without liquid along with double cream or custard.