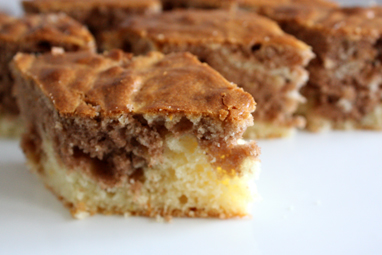 I have no recollection as to why or how my family came to call this delightful sweet treat 'Queen Cake'. Mum claims that I have been calling it this since I was six or so….come to think of it, I do recall including it in my primary school's annual recipe book and calling it 'Queen Cake'…perhaps it's because I thought it tasted so good that even the Queen would love it!
The irony of this is that my favourite cake in the entire world, may also qualify as the easiest cake to make in the world! Seriously, this cake is good and so easy that even my husband could make it!
Serve it warm with the optional dusting of icing sugar, or allow it to cool and spread with cocoa flavoured whipped cream and a generous scattering of chopped walnuts.
Making the cake
……………………………………………………………………………………
Recipe
Serves 10-12
Ingredients
3 cups (375g) self-raising flour, sifted
1 cup (220g) caster sugar
1 teaspoon vanilla sugar
3 organic or free-range eggs, room temperature
1 cup (250ml) full cream milk, room temperature
1 cup (250ml) vegetable oil (e.g. canola or sunflower)
Zest of 1 lemon
2-3 teaspoons cocoa
1/2 cup (60g) chopped walnuts
Method
1) Preheat oven to 180°C. Grease a 22-32cm rectangular tin with vegetable oil and line the base with baking paper.
2) In a large mixing bowl combine flour, caster and vanilla sugar, make a well in th centre and add eggs, milk, vegetable oil and lemon zest. Use a fork to mix until just combined.
3) Pour 3/4 of the mixture into the prepared cake tin. With remaining batter add cocoa and mix until well combined, stir in walnuts and spoon over plain batter. Use a fork to swirl through the cocoa batter. Bake for 30-35 minutes or until golden on top and cooked through.
Note: Check if the cake is ready by inserting a skewer, leave it for 5 seconds and if it comes out clean the cake is cooked, if it's slightly sticky cook for a further 5 minutes and check again.
4) Allow to cool slightly then cut into diagonals. Serve while warm or at room temperature with a dusting of icing sugar or a dollop of cocoa flavoured whipped cream.
Tip: Keep in fridge for up to 5 days.