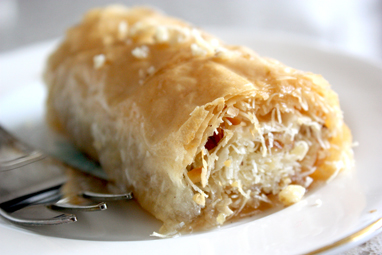 Kadaif or Kataifi is a curious shredded pastry, similar to a fine vermicelli noodle. Originating in the Middle East, kadaif is used to make numerous desserts and occasionally savory dishes too.
Often made with similar ingredients to baklava, that is, nuts, sesame seeds, filo pastry and sugar syrup, this 'like baklava but not-baklava', as a friend likes to call it, is delicious and relatively easy to make.
My mums recipe for kadaif is vegan and requires little fat. Once baked, the sweets need to be drenched in the sugar syrup and left overnight, otherwise the filling will be too dry. I recently made the mistake of not pouring enough syrup over, sadly the end result was too dry, and to my embarrassment I delivered a tray for a party…eeek!
Allowing the kadaif to stand overnight will ensure the shredded pastry absorbs all the liquid and plumps up, making a deliciously moist and moreish dessert.
……………………………………………………………………………………
Recipe
Serves 40
Ingredients
375g packet filo pastry sheets, thawed at room temperature for 2 hours
375g packet Kataifi shredded pastry, thawed at room temperature for 2 hours
2 tablespoons (20g) sesame seeds, lightly toasted
1 cup (250ml) vegetable oil
1.5 cup (180g) walnuts, crushed
Sugar syrup
5 cups (1.1kg) caster sugar
7 cups (1.75L) water
1 teaspoon vanilla sugar (or vanilla bean paste)
Lemon wedge, seeds removed
3 tablespoons (65ml) honey
Method
1) To toast sesame seeds, preheat oven to 150°C, place sesame seeds on a tray and toast for 5-10 minutes or until lightly golden and fragrant, allow to cool.
2) Preheat oven to 180°C and brush a large rectangular baking tray (or two smaller trays) with oil. If necessary cut filo sheet length to fit into tray snugly and cover with a damp tea towel to prevent from drying out.
3) Lay 2 sheets of filo on clean work surface with the longest edge facing you (cover remaining filo with tea towel). Working quickly, scatter over 1/10 of kataifi, sprinkle 1/10 of the walnuts and drizzle with oil. Gently roll lengthwise into a long cylinder, being careful not to squeeze too tightly, if necessary brush the exposed pastry edge with extra oil to seal, then place in baking tray with the bottom down, brush top with oil. Repeat with remaining filo and filling, to finish brush top with oil.
4) Bake for 15 minutes or until lightly golden, then turn oven down to 160°C and bake for further 30 minutes.
5) Meanwhile, for syrup, combine sugar, water and vanilla sugar (or vanilla bean paste) in large saucepan and bring to the boil, then reduce heat to low and simmer for 20-30 minutes or until syrup thickens. Take off heat, add lemon wedge and stir in honey. Allow to cool to lukewarm (blood temperature).
6) Cool kadaif slightly (2-3 minutes), remove lemon wedge from syrup and evenly pour over 3/4 of the liquid. Allow to stand for 30 minutes, then turn over each roll, if still dry pour over extra syrup and refrigerate for 1 hour. Remove from fridge and turn each roll over again, checking to see if the syrup has soaked through, if not add remaining syrup and refrigerate for at least 2 hours (preferably overnight). Use a sharp knife to cut into equal lengths, approximately 7cm long.
7) Serve at room temperature with an espresso or Turkish coffee.
Tips:
– Kataifi shredded pastry can be found in the refrigerated section of select supermarkets and delis.
– Kadaif will keep refrigerated in it's tray for up to 2 weeks, or frozen in plastic containers for for up to 3 months.
– Freeze fresh walnut halves in an airtight bag for up to 3 months.
Pin It