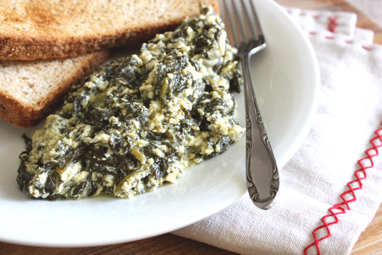 Before I get stuck into this weeks recipe, I'd like to take a moment to wish my beloved Village Feast a very happy first birthday! It's overwhelming to think that in only twelve months I've managed to cook and post over seventy recipes. Inevitably, I have added a couple of inches to my waistline (and hubby's too!), but I'm proud to say that it's all been worth it. Village Feast has given me a platform to discover the deliciousness of century old recipes and share them with passionate cooks all over the world.
As an ode to true village cooking, this week I bring you one of my favourite greens, the humble sorrel leaf. Known as 'kiselec' or 'kiselica', this sour spinach-like herb is loved by many, there is even a Macedonian folk song called 'para beri kiselec'. Often used as a pastry filling with spinach or added to spinach stew, I enjoy it wilted with egg and served on toast.
……………………………………………………………………………………
Recipe
Serves 2
Ingredients
2-3 tablespoons olive oil
150g sorrel leaves, coarsley chopped
Sea salt
2 eggs, lightly beaten
Method
1) Heat a medium frying pan over medium heat. Add olive oil, sorrel and sprinkle with salt. Gently cook until just wilted, then pour over lightly beaten eggs. Fold through eggs and remove from heat once cooked.
2) Serve while warm as a light lunch with lots of bread.
Tip: If sorrel is too sour, use equal portions of sorrel and spinach leaves.