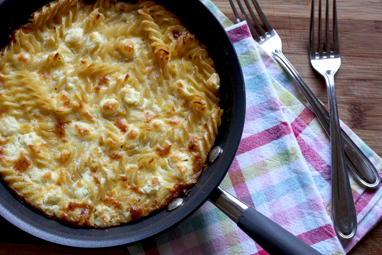 It's a fact, our sense of smell is strongly linked to our memory. Certain scents, be it from nature or the kitchen can transport us to another time and place. It's like the smell of baked pasta with feta, it somehow takes me back to my early childhood Saturday mornings, Mum in the kitchen and me as an eager, somewhat annoying nine year old hovering around, waiting for the oven to open so that I could pick off the crispy pasta and feta.
This is a great weekend breaky, or brunch, as it's easy, filling, and when served with a fresh garden tomato salad, it's heavenly! The subtle flavour of the egg, pasta and cheese also makes it perfect for kids.
……………………………………………………………………………………
Recipe
Serves 2
Ingredients
150g dried fusilli or rigatoni pasta (spiral or tube-shaped)
Sea salt
2 tablespoons olive oil
3 large eggs
4 tablespoons (80ml) milk
Freshly ground black pepper
50g cows milk feta cheese, coarsely crumbled
Method
1) Preheat oven to 220°C. Cook pasta in saucepan of boiling salted water according to packet directions or until al dente. Drain well and set aside.
2) Heat a small oven proof frying pan over medium heat. Add olive oil, then pasta and toss to coat. Meanwhile, lightly whisk eggs, milk, small pinch of salt and pepper. Pour eggs over pasta and gently fold through. Remove from heat, sprinkle over crumbled feta and bake for 10-15 minutes, or until the egg is cooked and golden.
Note: You may need to turn the grill on for the last 3-5 minutes.
3) Serve while hot with a fresh tomato salad.
Tip: Double or triple this recipe to serve 4-6 people. Rather than adding the egg mix to the frying pan, arrange the pasta in a lightly greased ovenproof dish or baking tray, pour over the eggs and scatter over the cheese. Bake a little longer, for 20-25 minutes, or until the egg is cooked and golden.
Pin It