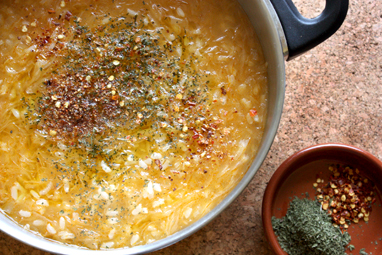 Yesterday was the first day of summer, yet I'm still wearing trackie pants and ugg boots, so I felt my readers would forgive me for posting a 'non' seasonal recipe. In fact, my northern hemisphere followers may really appreciate this winter warmer!
Borania is village comfort food and it's dead easy to throw together. Made with a can of sauerkraut and basic pantry staples such as rice, paprika and flour, this healthy soup is a great one to add to your repertoire for last minute dinners.
If you like meat, feel free to serve borania with pan fried pork and extra dried mint and chilli flakes, it's a match made in heaven!
……………………………………………………………………………………
Recipe
Serves 4
Ingredients
3 tablespoons olive oil
1 small onion, peeled and finely chopped
Sea salt
410g can sauerkraut, drained
1/2 cup medium grain rice, washed and drained
1 teaspoon mild paprika
6 cups (1.5 litres) water, boiled
Thickening sauce (zaprshka)
1 tablespoon olive oil
1 heaped tablespoon plain flour
1/2 teaspoon mild paprika
1 cup (250ml) water, boiled
To serve (optional)
Dried mint
Dried chilli flakes (or Bukovsko Biber)
Method
1) Heat olive oil in a medium pot (low-medium heat). Add onion and season with salt, saute until translucent (5-7 minutes). Increase heat slightly, add sauerkraut and stir until liquid evaporates (3-5 minutes). Add washed rice, stir to coat (1 minute). Sprinkle over paprika, stir through until fragrant (1 minute). Add hot water, reduce heat to low and simmer uncovered (10 minutes).
2) Meanwhile, prepare the thickening sauce. Heat a small saucepan over medium heat, add olive oil then flour and stir frequently with a wooden spoon, being careful not to burn the flour (3-5 minutes). When the flour starts to smell like it's cooking do the sizzle test by dropping a tiny amount of the flour into simmering soup, if it sizzles it's ready, if not, continue cooking flour for another minute and test again. Turn down heat and stir through paprika, pour in 1/3 of the hot water and stir vigorously, once incorporated add another 1/3 cup of water and beat again again until smooth and incorporated, continue to do this until you have a smooth slurry-type roux. Incorporate the remaining water and add the thickening sauce to the soup, continue to simmer until rice is cooked through (10-15 minutes in total).
3) Check seasoning and adjust with extra salt. Serve while hot, sprinkle with dried mint and chilli flakes to taste.
Tip: This soup is also yummy at room temperature.