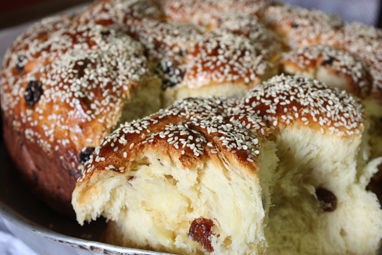 The lead up to Easter is a time of fasting, reflection and sacrifice, but come Easter Sunday, the celebration and feast is on!
As part of my families Easter tradition, in the early hours of Sunday morning, following midnight mass, we devour Baba Tala's incredible kozinjak.
Kozinjak is a heavenly sweet bread that everyone adores, so much so that my cousin has renamed it kozin-'yum'! I like to think of kozinjak as Macedonia's version of a hot cross buns, but oh so much better!
Baba Cveta, my grandfathers sister taught Baba Tala how to make kozinjak as a young bride. The recipe has been in the family for over 60 years and I'm extremely excited to be able to pass it on for others to enjoy.
……………………………………………………………………………………
Recipe
Serves 16
Ingredients
Sponge (yeast mix)
3/4 cup (185ml) full cream milk
3 tablespoons (6 x 7g sachets) dry yeast (to use less, see tips)
1 teaspoon (12g) caster sugar
1 tablespoon (6g) plain flour
Dough
6 large organic or free-range eggs, room temperature
1 1/3 cup (250g) caster sugar
2/3 cup (150ml) vegetable oil, plus extra for greasing
1 1/4 cup (310ml) full cream milk, room temperature
1 tablespoon (8g) vanillin sugar
Zest of 1 lemon
10 cups (1kg) white bread flour ('00'), sifted, plus extra for dusting
3 drops yellow food colouring (optional)
250g raisins
1 organic or free-range egg, lightly whisked for brushing
Sesame seeds for sprinkling
Method
1) Gently heat milk to luke warm (blood temperature). In a small bowl combine milk, dry yeast, sugar, flour and mix until smooth (1-2 minutes). Allow to rest until double in size (7-10 minutes).
2) In a large bowl or pot combine eggs, sugar, oil, milk and vanillin sugar. Lightly whisk until well combined (3 minutes). Add lemon zest, plain flour and sponge (yeast mix). Use one hand to scrunch and knead the dough, while the other turns the bowl/pot. Continue kneading until the dough starts to feel smooth and moves as one (7-10 minutes). Dust the top with flour and make a cross using the edge of your hand (a tradition of baba's to reminder us that bread is from God) and cover with a tea towel or lid. Allow to rest in a warm place until double in size (approx 60 minutes, depending on the weather).
Note: The dough should be quite wet, if it is too too dry add an extra tablespoon or two of milk.
3) Once the dough has risen knead for a further 3-5 minutes in the same bowl or pot, cover and allow to prove in a warm spot again (approx 30 minutes).
4) Oil a large round tin (40cm diameter) and line with baking paper.
5) Once risen, add raisins and knead for a further 5-7 minutes, scrunching and turning the bowl/pot until the raisins are evenly mixed through. Oil a large clean bench or table and turn out dough onto oiled surface. Divide into 3 equal portions, use your hands to roll and shape into long sausages (60cm in length). Gather at the top and gently fold over each sausage into a plait. Stretch out any sections that are thicker, so that the plait is the same thickness. Cut off the two end sections (these will be used for the centre). Shape the plait into a round ring and carefully place in baking tin. Combine the two cut off ends and roll into a sausage, then wrap into a knot and place into centre of the ring. Loosely cover with a clean tea towel and allow to stand in a warm spot for dough to relax (approx. 30 minutes).
6) Preheat oven to 200ºc.
7) Once the dough has relaxed, brush with lightly beaten egg (you may not need it all) and sprinkle with sesame seeds.
8) Bake for 10 minutes at 200ºc, or until the top starts to brown. Cover loosely with a sheet of foil and bake for a further 10 minutes. Reduce oven temperature to 150ºc, bake for another 10-15 minutes. Reduce oven temperature to 100ºc, remove foil and bake for a final 15-20 minutes or until cooked through, test with skewer (approx. 50-60 minutes in total).
9) Remove kozinjak from tin and eat immediately or wrap in a clean tablecloth (or a couple of tea towels) to keep warm.
10) Serve while warm or at room temperature.
Tips:
– Baba Tala likes to use a large quantity of dry yeast (6 x 7g sachets), however, if you prefer less yeast use 2-3 x 7g sachets.
– Eggs and milk must be at room temperature, if cold gently heat over a very low heat to blood temperature.
– If it's a cold day, prove the dough in very low oven (100°C), keeping the oven door open.
– Freeze leftover kozinjak for up to 2 months and reheat in the microwave.
– For a smaller kozinjak half this recipe, use a smaller round tin and reduce the baking times slightly.
– If your eggs are not yellow enough in colour, add 3-4 drops of food colouring.
Pin It