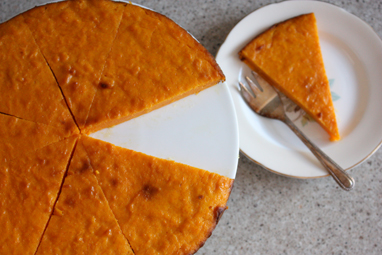 Here I am, just over 38 weeks pregnant and eagerly awaiting the arrival of our bundle of joy! While we wait for his/her arrival, I thought I'd post a feature recipe from a fellow Macedonian, living right here in Sydney.
This recipe has been passed down to Natalie from her baba, who according to Natalie always makes it with such dedication and ease. What I love most about this recipe is how simple and healthy it is – a welcome change from the sugary cakes I usually indulge in. I also love the intense orange colour of the pumpkin.
I baked my Tikvarnik in a regular round cake tin, however, you can bake yours in a rectancular tin and cut into square or diamond slices.
……………………………………………………………………………………
Recipe
Makes 12-16 pieces
Ingredients
1 butternut pumpkin, roughly cut into 8-10 pieces
2 eggs, lightly beaten
5 tablespoons (100g) castor sugar
5 tablespoons (70g) plain flour
5 tablespoons (100ml) milk
5 tablespoons (100ml) vegetable oil (e.g. canola or sunflower)
Method
1) In a medium pot place pumpkin and enough cold water to cover, cover with lid and bring to the boil. Reduce to simmer and cook until flesh is soft (30-40 minutes).
2) Remove pumpkin from water and allow to cool (5-10 minutes). Scoop out flesh, discarding skin and place in colander, allowing excess liquid to strain. Allow to cool completely.
3) Meanwhile preheat oven to 200°C and grease a 22-32cm rectangular tin with vegetable oil and line the base with baking paper or dust with flour.
4) Once cooled place pumpkin in a large mixing bowl and use the back of a fork to mush. Pour over eggs, add sugar, flour, milk, oil and mix until combined well.
5) Bake for 30-35 minutes or until lightly browned and firm to touch.
6) Allow to cool, slice and serve as meze or dessert.
Tips:
– Allow to cool completely before slicing and removing from baking tray.
– Best served cold or at room temperature.
Pin It