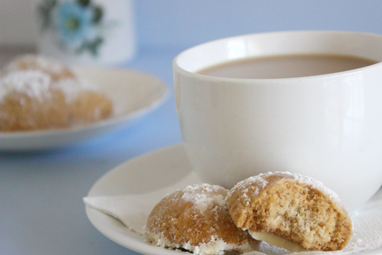 Who would have thought that it'd take me five months to find the time to start cooking again! Up until now I've been in survival mode, learning how to be a mum, and I'm sure you'll forgive me for choosing sleep over cooking.
So the good news is that I'm back. I'm also totally loving being and mummy to my little bear, and the even better news is that like his mama, bebe Bastian has a hearty appetite and loooves to eat. And thank goodness, as it's nice knowing that I'll have some help eating all my kitchen experiments in the years to come.
Thought I'd kick off with a lovely recipe for these delicious Walnut Shortbread Biscuits. Anna, a long time family friend was kind enough to bake a batch when Bastian was born and I kept them in the freezer for unexpected drop-ins. And seeing that Christmas is just around the corner, I think they'd make a perfect Christmas treat too!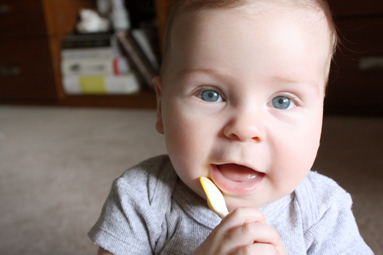 Bastian getting ready for a life of yummy village cooking
……………………………………………………………………………………
Recipe
Makes 36
Ingredients
1 cup (250g) unsalted butter, softened
4 tablespoons (50g) caster sugar
2 cups (250g) plain flour, sifted
2 teaspoons (10ml) vanilla extract
2 cups (240g) walnuts, finely chopped (or coarsly ground with a food processor)
Icing sugar, sifted (for dusting)
Vanilla sugar (for dusting)
Method
1) Preheat oven to 180°C and line 2 large trays with baking paper.
2) In a large bowl, cream butter and sugar until pale and fluffy (I used an electric hand mixer).
3) Add flour to mix and use your hands or a wooden spoon to combine until smooth (5 minutes). Add vanilla extract, followed by walnuts and mix until well combined.
4) Take small teaspoons of the mixture and hand roll into small balls. Place on prepared baking trays, leaving a small gap between each biscuit. Bake for 30-45 minutes, or until lightly golden but not browned (turning and swapping the trays halfway through baking). Remove from oven and set aside for 5 minutes to cool slightly.
5) Place icing sugar in a bowl and cover the warm biscuits (one at time) with icing sugar, coat generously. Place on a wire rack to cool completely. Once cooled, recoat in icing sugar and lightly cover with a final sprinkling of vanilla sugar.
6) Serve immediately or store in an air tight container in the fridge for up to one week or in the freezer for up to 3 months.
Tip: Can be stored in the freezer for up to 3 months.
Pin It