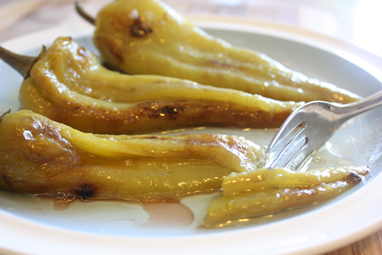 Inevitably, living in an apartment limits what I can grow in pots on my sunny balcony. I have a couple of essential herbs growing like parsley, rosemary, basil and sage, but for the good stuff (chillies, tomatoes and cucumbers) I have to rely on my garden obsessed family. Luckily for me, the supply of heavenly summer garden vegetables has begun with my first bag of fresh chillies!
I have been brought up to believe that there are 101 ways to eat a chilli. And believe me, there are! You can bake, dry, pickle, stuff then pickle, dust with flour then fry, fry with eggs, fry with tomato, grill, add to stews and goulashes, in salads, in sauces, in relishes…the list goes on.
One of my favourite ways of eating sweet garden chillies is blistered, peeled and drizzled with olive oil and vinegar. It's a delicious and healthy salad-type appetiser which can be eaten with a fork, but the best way to eat it is by holding the stem and gradually easing into your mouth, yum!
Use the stem of each chilli to turn over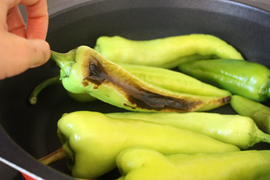 Split each chilli in half to drain out any excess liquid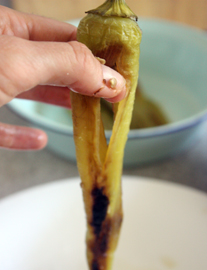 ……………………………………………………………………………………
Recipe

………………………………..
Serves 4 as an appetiser
Ingredients
12 long banana chillies (also known as Hungarian or bullhorn chillies)
1/4 cup (60ml) olive oil
Sea salt to taste
Red wine vinegar to taste
Method
1) Rinse and dry chillies. Heat a bbq hot plate or grilling/frying pan (medium-high heat). Place half the chillies on the grill/pan and let the skin char and turn black (3-5 minutes on each side). Every so soften press down lightly to ensure all surfaces are being charred (being careful not to split the skin), use the stem of each chilli (or tongs) to turn over. Once blackened all over transfer to a bowl and cover with a dinner plate to keep in the heat (you can also place in a plastic bag), allow to cool (10-15 minutes).
2) Once cool enough to handle, peel and discard the skin. Use your thumb and index finger to split the chilli in half length ways to allow the excess liquid to drain out. Place the perpared chillies in a clean bowl, sprinkle with salt and drizzle over olive oil, use your fingers to ensure each chilli has been evenly dressed. Store in an airtight container in the fridge for up to 5 days.
3) To serve, chillies should be at room temperature. Place 2-3 chillies in a plate, drizzle with red wine vinegar and a little extra salt if necessary, eat with feta cheese and fresh crusty bread to mop up the juices.
Tip: You can also blister chillies in a very hot oven (250°C). Place chillies on a tray, bake for 15-20 minutes, turning regularly until blistered all over.