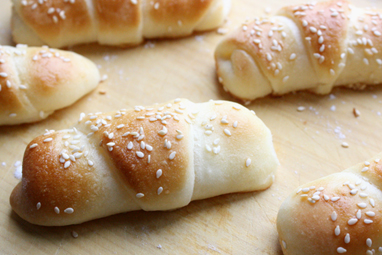 Kifli, or kiflici as they are otherwise known are a much loved Eastern European delicacy. Some make them with butter and sour cream, others with lard. My families recipe is a much healthier variation, using vegetable oil and milk. The texture is soft and fluffy, ideal for moping up a juicy
tomato salad
or lutenka.Often filled with a mixture of creamy cottage cheese and feta, you can get adventurous and fill with plum jam and walnuts or even nutella, sprinkling with brown sugar rather than sesame seeds.
……………………………………………………………………………………
Recipe
Makes 48
Ingredients
Sponge (yeast mix)
1/3 cup (80ml) lukewarm water
2 (7g) packet dry yeast
2 teaspoons sugar
2 tablespoons 00 plain bread flour
Dough
6 1/2 cups (815g) 00 plain bread flour, sifted, plus extra for dusting
1 teaspoon salt
2 organic or free-range eggs, room temperature
3/4 cup (185ml) water, room temperature
3/4 cup (185ml) milk, room temperature
3/4 cup (185ml) vegetable oil (e.g. canola), plus extra for drizzling
Filling
200g feta cheese, crumbled
250g cottage cheese, room temperature
1 organic or free-range egg, lightly beaten for brushing
Sesame seeds for sprinkling (optional)
You will need:
• Small bowl or mug (for sponge)
• Large bowl (for dough)
• Damp tea towel (to cover the resting dough)
• Clean table or workbench
• Rolling pin
• Cake spatula
• 2 large baking trays
• Brush
Method
1) Stir sugar, yeast and flour in a small bowl/mug until smooth (1 minute). Allow to rest (7-10 minutes) or until double in size.
2) Grease 2 large baking trays with vegetable oil.
3) In a medium bowl combine the cottage cheese and feta cheese, mix well and set aside.
4) In a large bowl add sifted flour and salt and make a well in the centre, add sponge (yeast mix), eggs, water, milk and oil. Using your fingers start to incorporate the wet ingredients with the flour, as the dough starts to come together begin to knead with one hand while the other turns the bowl (5-7 minutes). Using the edge of your hand make a cross on top (this is my gorgeous baba's tradition). Dust the top with flour and cover with a damp tea towel. Allow to rest for 15-20 minutes or until double in size and the cross has expanded.
5) Once the dough has risen knead for a further 1-2 minutes in the bowl and turn out onto a flour dusted surface, dust the top of the dough with extra flour and gently roll to cover all over. Using a spatula cut into 6 equal portions and knead into 6 round balls, set aside and cover with a tea towel.
6) Take one of the balls and flatten with the palm of your hand into an even circle approximately 20cm in size. Dust the top with flour and use a rolling pin roll out to 35-40cm circle. Drizzle with oil and gently spread out using your finger tips. Cut into 8 even quarters. Working quickly add a heaped teaspoon of the cheese filling at the top of each quarter, turn the corners in slightly and roll the dough over the filling towards the centre until half way, now stretch the dough back towards you slightly (5cm) to lengthen (this will give you a nice envelope shape), continue rolling over with the end neatly hidden underneath. Arrange on tray and repeat with the remaining dough, working as quickly as possible. Allow the first tray to rest uncovered and relax for 15-20 minutes, then brush with lightly beaten egg and sprinkle with sesame seeds, allow to stand for a further 10-15 minutes. Repeat this process with second tray, allowing 15-20 minutes of resting time before brushing with egg and resting again for a further 10-15 minutes.
7) Preheat oven to 200°C.
8) Bake the first tray which has been resting for 5 minutes at 200°C or until lightly golden on the edges, reduce oven temperature to 150°C and bake for another 5 minutes, finally reduce oven to 100°C baking for 5-10 minutes or until lightly golden all over. Bake the second tray in the same manner.
9) Once baked allow to stand for 5-10 minutes and remove from tray. Serve while warm or at room temperature as meze with lutenka or a tomato salad during summer. During winter enjoy with a cup of warm tea for breakfast or a glass of red wine in the evening.
Tip: Kifli freeze well for up to 3 months, simply defrost, reheat in the oven and serve while warm.
Pin It