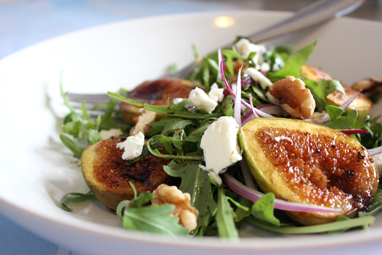 Thanks to the popularity of 5 Minute Tiramisu, here's another super-quick 5 minute recipe.
Seeing I still have an abundance of fresh figs from my parents fruitful fig tree, I thought I'd share one of my favourite ways to enjoy this ancient fruit.
Some prefer figs raw, but in my opinion the best way to enjoy them is cooked, as it only takes a few minutes for the flesh to collapse and caramelise into heavenly goodness.
Although this salad looks fancy, you can almost prepare it with your eyes closed. It's simply a matter of assembly, however the secret to it tasting amazing is using top quality extra virgin olive oil, balsamic and goats cheese. Adding toasted walnuts/pine nuts is optional and takes a few extra minutes, but if you're out to impress it's well worth it!
Serve as an entree or as a main with duck or chicken.
……………………………………………………………………………………
Recipe
Serves 4
Ingredients
8 figs, halved
20g butter
100g packet rocket leaves, washed and dried
1/4 Spanish onion, thinly sliced length-ways
Extra virgin olive oil
Balsamic vinegar
80g soft goat's cheese, crumbled
1/3 cup lightly toasted walnuts or pine nuts (optional)
Sea salt and freshly ground black pepper
Method
1) Pop a medium frying pan over medium-high heat. While the pan is heating prepare figs, rocket and onion. Season figs (cut-side) with salt and pepper.
2) In a large serving platter or 4 individual plates arrange rocket and scatter over onion slices.
3) Your pan should now be hot enough, add butter and a glug of olive oil, it should bubble slightly, swoosh around to cover the pan, place figs cut side down, shake the pan to evenly distribute the oil and cook for 1-2 minutes, carefully turn over and cook for 30 seconds. Remove figs from pan and evenly arrange on rocket, drizzling over the remaining cooking juices from the pan. Drizzle over olive oil (2-3 teaspoons per serving), balsamic vinegar (1 teaspoon per serving) and season with pepper and a small amount of salt.
4) Crumble over cheese and scatter with pre-prepared walnuts/pine nuts (optional).
5) Serve immediately as an entree or alongside duck or chicken as a main.
Tip: Lightly toast pine nuts or walnut halves in a dry pan over a medium heat for 3-5 minutes, stirring occasionally until toasted and fragrant.