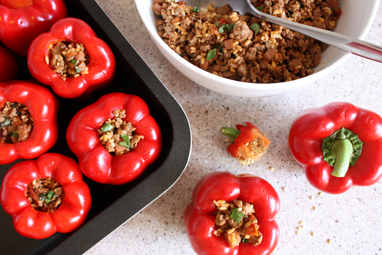 Happy St. Patrick's Day! Unfortunately, I don't have a traditional Irish recipe to share with you today, but as it is my Dad's birthday, I thought I would share one of his favourite meals.
Polneti Piperki are dear to the hearts of many, including my husband who just can't seem to get enough of them. In fact, they are so popular that they could almost be considered a national dish in Macedonia.
I have been religiously perfecting my way of cooking Polneti Piperki for the last three years. This recipe is based on variations from three very dear women in my life, my baba (grandmother), mum and mother-in-law. What I have tried to do is take the best from all three recipes and add a couple of my own additions too.
I like to serve Poneti Piperki for dinner parties in the middle of the table with a garden salad and fresh crusty bread. Friends always love how rustic it looks and can't wait to dig into this old favourite. Polneti Piperki also make an easy weeknight re-heat meal when made on a Sunday night.
Preparing capsicums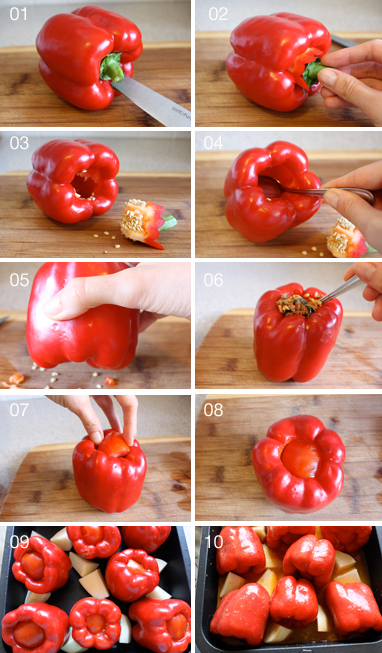 ……………………………………………………………………………………
Recipe
Serves  8
Ingredients
8 large (or 10 smaller) red capsicums, stems seeds and membrane removed
2-3 medium tomatoes, cut into quarters
1 medium tomato, blanched, peeled and roughly chopped (or 3 tablespoons of an Italian style tomato passata)
3 tablespoons olive oil
1 large onion, finely diced
100g speck, skin removed and finely diced (if unavailable replace with bacon)
800g beef, minced
6 sun-dried tomatoes, finely chopped (optional)
1-2 garlic cloves, finely diced
1 cup (220g) medium grain rice, washed and drained
1-2 teaspoons mild paprika
1 handful basil leaves, chopped
1/4 teaspoon white pepper
Sea salt and freshly ground black pepper
3 medium potatoes, peeled and cut into quarter
Paprika Sauce
2 tablespoons olive oil
2 heaped tablespoons plain flour
1 teaspoon mild paprika
750ml hot water
1 medium tomato, blanched, peeled and finely chopped (or 3 tablespoons of an Italian style tomato passata)
1-2 teaspoons salt (or a dried vegetable stock e.g. Vegeta/Massel)
Freshly ground black pepper
1/4 teaspoon white pepper
Method
1) Heat a large frying pan (I like to use a wok) over low-medium heat. Add oil then onions and a sprinkling of salt, saute without colouring (4-5 minutes).
2) Turn heat up slightly to medium and add speck/bacon and cook until lightly browned (3 minutes).
3) Turn heat up again to medium-high and add minced beef, stiring continuously until lightly browned but not overcooked (5-7 minutes).
4) Add garlic and mix through, when fragrant (1 minute) add sun-dried tomatoes, then rice and stir to coat (2 minutes).
5) Add paprika and mix through, once fragrant (1-2 minutes) add blanched tomato and stir until the tomato smells fragrant (2-3 minutes).
6) Take off the heat, stir through basil, white pepper, black pepper and salt to taste and set aside.
7) Preheat oven to 250°C and prepare capsicums. With a paring knife cut around the stem and remove, scoop and shake out the seeds and remove any membrane.
8) Using a tablespoon fill each capsicum with the meat mixture, shake the capsicum to get the meat to the bottom and gently push the to the sides so that the filling is evenly distributed, repeat this process until each capsicum is almost full. Create a closure and seal the filling by inserting a tomato quarter inside each capsicum, place upright in a large casserole or baking tray. Once all the capsicums have been stuffed, evenly arrange the potato quarters in between the capsicums.
9) To make the sauce heat olive oil in a medium saucepan (medium heat). Add flour and stir frequently with a wooden spoon, being careful not to burn the flour (3-5 minutes). Have the hot water and a whisk close by. When the flour starts to smell like it's cooking add paprika and stir continuously until fragrant (1 minute). Add 100ml of hot water and whisk vigorously, once incorporated add another 100ml and whisk again until incorporated, continue to do this until you have a smooth sauce (3-5 minutes). Add tomato, salt, ground black pepper and white pepper to taste. Bring to the boil and remove from heat.
Note: For roux image see Village-style Spinach Stew recipe.
10) Pour the sauce over each capsicum, being sure that some of the liquid gets into the filling. Lay each capsicum on the side and pour in enough liquid to submerge the potatoes (you may not require all the liquid at this stage). Place in the oven and cook on a high heat for 10 minutes and then reduce oven temperature to 220°C and bake for an additional 20 minutes.
11) After 20 minutes take out of the oven, turn each capsicum and the potatoes over and bake for an additional 20-30 minutes. If you find the capsicums are burning too quickly cover loosely with foil for the final 10-20 minutes. Additionally, if the sauce has dried up add a little more of the liquid (if you have any left over) or hot water.
Tips:
– Use leftover filling to stuff tomatoes, sarmi or make musaka. It also freezes well for up to 4 weeks.
– Traditionally long red banana chillies and hollow tomatoes are used in place of capsicums.
Pin It