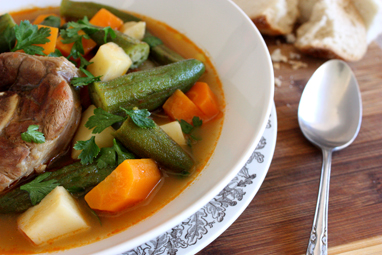 With winter on it's way, I'm feeling the need for a comforting village-style stew. One that I can enjoy with copious amounts of crusty bread and feta cheese.
My favourite 'mandza' (pronounced muhn-juh), is a mix of veal and veggies. I tend to use potatoes, carrots and okra, the deliciously slimy vegetable that so many are afraid of, but I unashamedly love! Although okra is a summer vegetable, I was lucky enough to stumble across some the other day. If you are unable to find okra or prefer not to use it, this stew tastes just as good with green beans.
Feel free to change the ingredients to your taste, other popular combinations are veal and potato, or chicken and rice.
It's a hearty meal, which like all good stews, thickens and gets better overnight.
……………………………………………………………………………………
Recipe
Serves 4
Ingredients
4 veal cutlets (or veal t-bone steaks)
2 litres water, boiled
1 medium onion, chopped
1 garlic clove, finely chopped
2 medium potatoes, roughly chopped
2 medium carrots, roughly chopped
1 large tomato, blanched, peeled and roughly chopped (or 3 tablespoons of an Italian style tomato passata)
1 teaspoon mild paprika
250g okra, tops and tails cut off, blanched in salted water for 1 minute, rinsed and drained (if unavailable replace with green beans)
Olive oil
Sea salt and freshly ground black pepper
Roux
2 tablespoon olive oil
2 tablespoons plain flour
1 teaspoon mild paprika
Parsley, roughly chopped to garnish
Method
1) Season veal with salt and pepper. Heat 1 tablespoon of olive oil in a large pot (medium-high heat) and cook the veal until evenly browned all over. Pour over hot water, add a tablespoon of salt (you can use a dried vegetable stock like Vegeta/Massel if you prefer) and bring to the boil, skim surface and reduce heat. Simmer for 30-45 minutes.
2) Meanwhile blanch your tomato. Wash, remove the stem and cut an 'X' into the base no bigger than 2cm and no deeper than 3mm. Place tomato in a bowl, pour over boiling water until completely covered and allow to stand for 1 minute. Carefully remove from hot water and peel when cool enough to handle. Roughly chop and mix through a teaspoon of salt.
3) If using okra, bring a pot of water to the boil, add 1 teaspoon salt and blanch okra for 1-2 minutes. Refresh under cold water, drain and set aside.
Note: If you are using green beans there is no need to blanch.
4) In a medium frying pan heat 1-2 tablespoons of olive oil (medium heat). Add onion, season with salt and lightly brown (5 minutes). Add garlic and when fragrant add potatoes and carrots, sprinkle with extra salt, stir and continue cooking (5 minutes). Add paprika, stir to coat and cook until fragrant, taking care not to burn the paprika (1-2 minutes). Add chopped tomato (or passata), mix well so that all the vegetables are evenly coated (2-3 minutes). Add vegetables to the simmering pot, bring to the boil and reduce heat, simmer for 20-30 minutes.
5) After 20 minutes make the roux (thickener). Give the frying pan a quick wipe down with a paper towel. Heat olive oil (medium heat), add flour and stir frequently with a wooden spoon, being careful not to burn the flour (3-5 minutes). Have a ladle close by for the liquid from the stew and a whisk ready to go. When the flour starts to smell like it's cooking add paprika and stir continuously until fragrant (1 minute). Add a ladle of the liquid from the stew and whisk vigorously, once incorporated add another 2 ladles of liquid and whisk again until incorporated, continue to do this until you have a smooth slurry-type roux (3-5 minutes). Stir the roux in to the simmering stew along with the blanched okra (or green beans). Boil for 5 minutes and then turn off heat. Taste and add more salt and pepper if necessary.
Note: For roux image see Village-style Spinach Stew recipe.

6) Garnish with parsley and serve hot with fresh bread and feta.
Tip: If you don't like veal replace with chicken pieces. Or, if you're vegetarian leave out the meat and add dried vegetable stock for extra flavour.