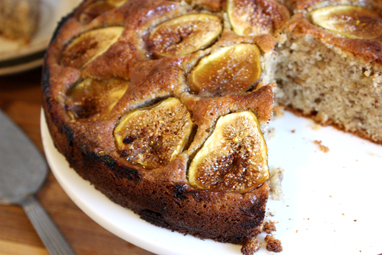 You're probably wondering, who is Bill? Bill Granger of-course, the hugely successful self-taught cook, restaurateur and food writer. I'm a fan of Bill's simple, home-style cooking, I especially love his recipe for Hazelnut and Fig Cake from his book Holiday.
Friends and family well know that I regularly make this cake during summer and early Autumn, while fresh figs are still available. The beautiful combination of sweet honey, gently caramelised figs and hazelnuts makes for a memorable rustic treat that you'll wish you could eat all year round.
……………………………………………………………………………………
Recipe
Serves 8
Ingredients
125g unsalted butter, room temperature
150g (3/4 cup) caster sugar
75g (3/4 cup) plain flour, sifted
2 teaspoons baking powder
3 free-range or organic eggs, lightly beaten
100g (1/2 cup) ground hazelnuts
50g (1/3 cup) hazelnuts, chopped into small pieces
8-10 fresh figs (not too ripe), halved
2 tablespoons honey
Method
1) Preheat the oven to 180°C. Cream the butter and the sugar in a large mixing bowl with an electric hand-held mixer until pale and fluffy (3-5 minutes).
2) Sift together the flour and baking powder. Use a large metal spoon to fold the flour and eggs alternately into the creamed mixture. Fold in the ground hazelnuts and then the chopped hazelnuts.
3) Grease a 20cm/8-inch cake tin and line with baking paper, leaving the paper hanging over the sides to help you lift out the cake. Spoon the mixture into the tin. Arrange the figs, cut side up, in a neat layer on top of the cake. Bake for 55 minutes to 1 hour, or until a skewer poked in the middle of the cake comes out clean.
4) Leave to rest in the tin for 10 minutes before turning out. Drizzle honey over the top of the cake just before serving.
Tip: Bill suggests serving the cake with lightly whipped cream but I prefer it with a scoop of vanilla bean ice cream.