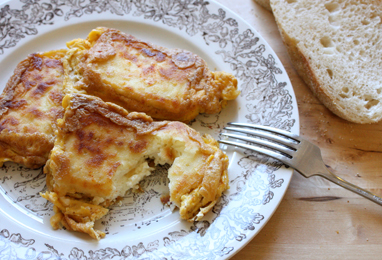 Saturday mornings were always a big deal when it came to breakfast. Mum would often prepare something hot that we all enjoyed as a family. One of my fondest memories growing up was the smell of feta cheese frying with eggs and kolbasi. When we sat down at the table to enjoy, Dad would always say that he was sure he ate better than the Prime Minister and Prince Charles!
The smell alone is amazing. The taste on the other hand, is out of this world! Przeno Sirenja is fluffy egg, followed by a delicate fried crust and soft oozy cheese.
Although rich and indulgent in calories, as a once a week treat this delicacy is definitely justifiable. Some love Prezeno Sirenje so much they have lovingly named it 'sirencinja' (little cheeses).
The addition of egg and pinch of paprika is definitely an option. When served without egg it makes a delicious appetiser, just cut the cheese into strips rather than rectangles and serve with a toothpick.
……………………………………………………………………………………
Recipe
Serves 4
Ingredients
300-400g feta cheese, cut into 1cm thick slices
1/4 cup (30g) plain flour, for coating
3-4 tablespoons olive oil
Pinch of mild paprika (optional)
4-5 eggs, lightly beaten (optional)
Sea salt and freshly ground black pepper
Method
1) Cut feta into 1cm thick slices.
2) Heat olive oil in a medium non-stick frying pan (medium-high heat).
3) Roll the sliced cheese in flour until evenly coated and shake off any excess. When the oil is hot enough add the flour coated cheese in a single layer, turn once until golden brown on both sides (3-5 minutes on each side).
Note: At this point you have the option of serving the cheese as an appetiser, to make it more of a meal proceed with step 4.
4) In a medium bowl add eggs, sea salt and black pepper to taste, lightly beat. Evenly space the cheese so there is a small gap between each piece, sprinkle a pinch of paprika in between so that it falls on the base of the pan and begins to smell fragrant (1 minute). Pour in the lightly beaten eggs and shake the pan around a bit, use a spatula if necessary to help the egg get underneath each piece of cheese and cook evenly. After 2-3 minutes carefully turn over the cheese so that the egg is cooked on both sides. Serve immediately with fresh bread, kolbasi and tomato salad (during summer).
Tips:
– You can replace feta with other hard cheeses like haloumi or kasseri.
– Placing the cheese in bowl of iced water (or under cold tap water) for several seconds will make the flour stick to the cheese and help to form a crust.