For many, Friday is a day of fasting. Although a summer recipe, this dish fits with today being Friday. Submitted by Leni from Illinois, USA, she has fond memories of her baba's Vegan Baked Rice with chilli and tomatoes.
With winter approaching here in Australia, garden chillies and tomatoes are no longer in abundance, so I'll photograph this recipe next season. In the meantime, I'll just have to dream about those juicy tomatoes and crisp garden chillies.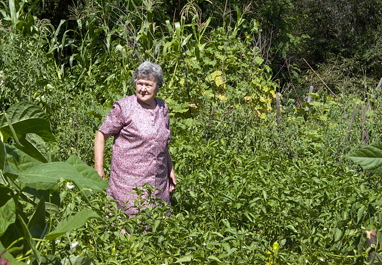 Leni's baba is from the village Gjavato, a place my husband and I visited in 2006 as David's father is from the same village. Here's an image I took of a local lady in her abundant garden in the village Gjavato, Macedonia.
……………………………………………………………………………………
Recipe
Serves 4-6
Ingredients
5 hot banana chillies, seeds and stems removed, roughly chopped
3 ripe tomatoes, roughly chopped (blanch and remove the skin if you prefer)
2 large garlic cloves, finely chopped
1/4 cup (60ml) of olive oil
2 tablespoons sea salt
2 cups (440g) long grain white rice, rinsed and drained
4 cups (1L) water
Method
1) Preheat oven to 200°C (400°F).
2) Prepare chillies, tomatoes, garlic and set aside. Heat olive oil in a medium frying pan (medium-high heat), add chillies and stir frequently to avoid from burning or browning too quickly, fry until fragrant (5-7 minutes). Add garlic and tomatoes, stir through and fry for an additional 5 minutes. Add salt, followed by washed rice and mix well, remove from heat.
3) Transfer vegetable and rice mix to a 13 x 9" baking tray/dish, add water and bake for 30-40 minutes or until the water is absorbed and the rice is cooked. If necessary, add an extra 1/4 cup of water during baking if the rice dries out.
4) Remove from oven and cover with foil until ready to serve. Serve while hot or at room temperature with  a fresh garden salad (or grilled meat).
Tips:
– Banana chillies/peppers are also known as Hungarian or bullhorn, if unavailable replace with 2 capsicums and 1 finely chopped Birdseye chilli.
– To de-seed chillies, cut the top off and discard the stem, then cut in half lengthwise to remove the seeds and membrane, you'll find a helpful image within the Rustic Fried Chillies with Eggs and Cheese recipe.
– To blanch tomatoes, cut an 'X' into the base no bigger than 2cm and no deeper than 3mm and place into a pot of boiling water no longer than 1-2 minutes. Remove from water and when cool enough to handle remove skin and stems.