Here's a yummy goulash recipe made with leftover BBQ meat. You can use anything from sausages to grilled chicken breast, but pork and beef tend to taste best. I used leftover kjoftinja (meatballs) which incidentally contain a combination of beef and pork mince.
The recipe was conjured up by mum in an effort to make leftovers more exciting, especially after our large European family feasts that often resulted in mounds of leftover meat.
My baba's whole dried chillies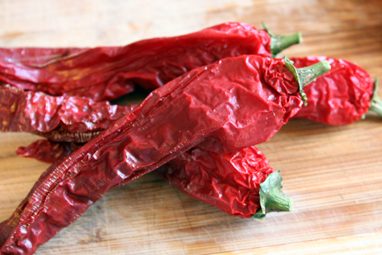 ……………………………………………………………………………………
Recipe
Serves 4-6
Ingredients
3-4 tablespoons olive oil
2 onions, thinly sliced lengthways
6 mild died red chillies, seeds removed and roughly chopped (if unavailable replace with 2-3 fresh banana chillies or 1 red capsicum)
2 medium carrots, roughly chopped (optional)
2 heaped tablespoons plain flour
1-2 teaspoons mild paprika
4 tablespoons (80ml) Italian style tomato passata sauce
4-5 cups (1-1.25 litres) boiling water
Sea salt
1 teaspoon dried vegetable stock, e.g. Massel or Vegeta (or replace with extra salt)
Freshly ground black pepper
8-10 pieces of leftover BBQ meat, roughly chopped or left whole (e.g. kjoftinja, pork, beef, chicken breast)
2 bay leaves
Method
1) Preheat oven to 250°C.
2) Heat a medium frying pan over low-medium heat, add oil, onion and a sprinkling of salt, saute onion without colouring (5 minutes). Add chillies and carrots and continue cooking (3-5 minutes). Add flour, stir to coat and cook for 5 minutes. Sprinkle over paprika and cook until fragrant (1-2 minutes). Add passata, stir through, followed by boiling water. Add dried stock and pepper to taste.
3) Transfer vegetables and liquid to large baking dish and arrange leftover meat, push meat under the liquid to ensure all pieces are submerged. Place bay leaves on top.

4) Place in hot oven and cook for 5 minutes then reduce temperature to 200°C and continue to cook for further 30-40 minutes or until the sauce thickens.
Note: Add extra water during cooking if necessary to prevent meat from drying out.
5) Serve while hot with bread, brown rice or potatoes.
Tips:
– Meat can be roughly chopped or left whole (as in this recipe).
– Feel free to use a combination of BBQ beef, pork, sausages etc.