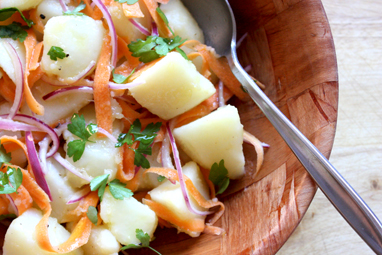 Summer, where are you? It's now mid November, and I'm starting to get tired of the constant grey skies and rain!
Although it's not exactly raining today and the sun is 'partly' out, I'm sure that others living in Sydney and the east coast of Australia will agree that this Spring has been one of the wettest in memory! I'm well and truly ready for hot sunny days, sand caught between my toes, the smell of barbecued steaks and fresh yummy salads.
Mum's basic potato salad is a perfect BBQ accompaniment. It can be jazzed up by adding a couple of dollops of  homemade mayonnaise or, a couple of chopped boiled eggs.
……………………………………………………………………………………
Recipe
Serves 4
Ingredients
4 medium (700g) brushed potatoes, washed, peeled and cut into rough 3cm pieces
Sea salt
4 tablespoons extra virgin olive oil
1 tablespoon red wine vinegar
Freshly ground black pepper
1 small carrot, peeled and sliced into thin ribbons using a speed peeler (can also be grated)
1/4 of small Spanish onion, thinly sliced lengthways
1/3 cup of loosely packed flat leaf parsley, roughly torn or chopped
Method
1) Place potatoes in a medium pan, cover with cold water and place over high heat. Just before the water comes to the boil add salt and continue to boil for 12-15 minutes until the potatoes are just cooked through.
2) Meanwhile, combine olive oil, vinegar, sea salt and black pepper in a small bowl and whisk to emulsify.
3) When cooked, drain potatoes in a colander and place in large bowl. While still warm add carrot, onion and pour over dressing, gently toss to combine. Taste and adjust the seasoning if necessary. Allow potatoes to cool slightly before scattering over parsley. Serve while warm or at room temperature with grilled fish, meat, or on their own.
Tips:
– If available try using red-skinned Desiree potatoes, their creamy, yellow flesh is prefect for potato salad.
– Add 3 heaped tablespoons of good quality homemade mayonnaise and refrigerate before serving, see recipe for Homemade Mayonnaise
– Add one or two hard boiled eggs that are roughly chopped or quartered.