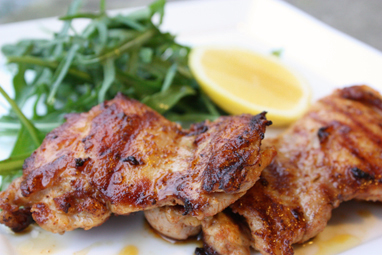 I have some explaining to do…there's a reason why my posts have been a little sparse over the past few months. I've been feeling ridiculously tired, my taste buds have drastically changed, and to my surprise, some days cooking is the last thing I feel like doing! If you've guessed that I've got a bun in the oven, you're absolutely right…I'm pregnant!!!
So beloved feasters, I hope you can forgive me for my infrequent recipe posts, and I hope you're still happy to follow me on my journey as an eager village cook and first time mum to be. The recipe posts will continue, but they may be tad less frequent, and they may become a little simpler over the coming months.
In keeping with the theme of simplified cooking, I'd love for you to try my Mum's lemon and paprika chicken, it's an old favourite and perfect during summer on the BBQ served with a simple garden salad or taratur.
……………………………………………………………………………………
Recipe
Serves 4-6
Ingredients
3 tablespoons olive oil
2 teaspoons paprika
1 garlic clove, finely grated
Juice and zest of half a lemon (zest is optional)
Sea salt to taste (or dried vegetable stock e.g. Vegeta/Massel)
4-6 chicken thigh or breast fillets, skin removed
Method
1) Combine olive oil, paprika, garlic, lemon and salt in a medium sized glass or plastic bowl. Add chicken and toss to completely cover with marinade. Cover and marinade in refrigerator for 2 hours.
2) Preheat BBQ plate/chargrill or large frying pan (medium to hot). Cook chicken for 5 to 7 minutes on each side or until cooked through.
3) Serve chicken with salad.
Tip: Leftover chicken is delicious the next day on sandwiches with green oak lettuce, tomato, bacon and aoili (see recipe).