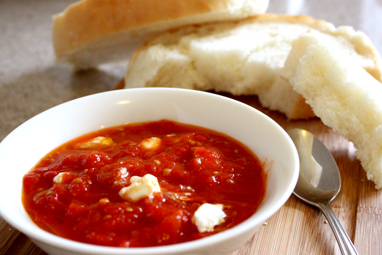 If there's one thing I'm going to miss about summer, it's those juicy red garden tomatoes, especially the intoxicating smell of them gently blipping away on the stove.
So as the warm weather comes to a close, I felt it was essentially to celebrate the humble tomato, especially since I had a heap of tomatoes that were almost past their used by date.
I'm still baffled as to how something so simple can taste so damn amazing! The flavour is intense yet mellow, and perfect with feta and mounds of freshly baked bread.
……………………………………………………………………………………
Recipe
Serves 4
Ingredients
1kg ripe tomatoes
2 tablespoons olive oil
1/2 teaspoon salt
1/2 teaspoon sugar
100g feta cheese, roughly crumbled (optional)
Method
1) ) To blanch tomatoes bring a medium saucepan of water to the boil. Wash tomatoes and cut an 'X' into the base no bigger than 2cm and no deeper than 3mm. Gently drop half the tomatoes using a slotted spoon into the boiling water. Cover with lid for 1-2 minutes. Carefully remove remove from boiling water and place on a tray to cool. Repeat with remaining tomatoes. When cool enough to handle remove skin, stems and roughly chop.
2) Heat a a medium saucepan over medium heat, add peeled and chopped tomatoes and simmer until liquid has reduced (15-20 minutes). Mix through oil, salt and sugar. Add feta and stir through, then remove from heat.
3) Serve while warm with fresh bread and grilled kjofte, chevapi or kolbasi.
Tips:
– A great way to use up tomatoes that are too sloppy for salad.
– Freeze or store in airtight jars for use in winter.
– Leave out the cheese for a vegan option.