Turli Tava, which translates as 'mixed pan' is a classic village meal. It's made in one big pan and is packed with flavour.
As it's slightly cooler today, a real contrast to the hot and sticky weather of the past few days, I thought this recipe was a perfect choice. You'll need three types of meat and loads of mixed summer vegies, but the real hero is okra, a unique vegetable originating from Africa and a delicacy in the Middle East, Mediterranean and parts of Europe. They are often difficult to come by, but when you see them be sure to grab a couple of handfuls. Look for young pods free of bruises no more than 10cm long.
Turli Tava uses a beautiful variety of vegetables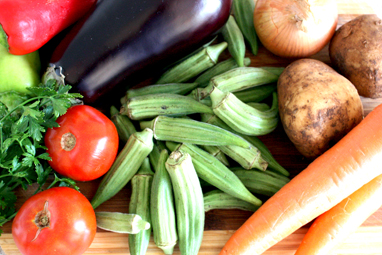 Add the blanched okra for the last 5-10 minutes of cooking

……………………………………………………………………………………
Recipe
Serves  8
Ingredients
3 veal cutlets (or veal t-bone steaks)
3 pork chops
3-4 assorted chicken pieces (drumstick, thigh, wing)
Sea salt and freshly ground black pepper
Olive oil
1 medium onion, peeled and roughly chopped
2 medium potatoes, peeled and roughly chopped
2 medium carrots, peeled and roughly chopped
1 medium eggplant, stem removed and roughly chopped
2-3 red/green banana chillies, stems and seeds removed, roughly chopped (if unavailable replace with 1 red/green capsicum)
1 large tomato, blanched, peeled and roughly chopped (or 3 tablespoons of an Italian style tomato passata)
1 teaspoon mild paprika
250g okra, tops and tails cut off, blanched in salted water for 1 minute, rinsed and drained (if unavailable replace with green beans)
Roux
2 tablespoons olive oil
2 heaped tablespoons plain flour
1 tablespoon mild paprika
Parsley, roughly chopped to garnish
Method
1) Season veal, pork and chicken with salt and pepper and set aside. Heat olive oil in a medium pot (medium-high heat), cook the veal until evenly browned and set aside. In batches brown the pork next, followed by the chicken pieces and remove. Return the veal and pork to the pot (not the chicken), pour over enough cold water to cover the meat (approx. 1.5 litres), increase the heat to high and bring to the boil, then reduce to low, simmer for 15 minutes, skimming the surface. Add browned chicken peices, simmer for a further 15 minutes. Remove pot from heat and set aside.
2) Meanwhile blanch your tomato. Wash, remove the stem and cut an 'X' into the base no bigger than 2cm and no deeper than 3mm. Place tomato in a bowl, pour over boiling water until completely covered and allow to stand for 1 minute. Carefully remove from hot water and peel when cool enough to handle. Roughly chop and mix through a teaspoon of salt.
3) Preheat oven to 250°C. In a large ovenproof casserole or heavy-bottomed pan heat 2 tablespoons of olive oil (low-medium heat). Add onion and season with salt, stir frequently (5 minutes). Increase heat to medium and add potato, carrot, eggplant and chilli, sprinkle with extra salt, stir and continue cooking (3-5 minutes). Add paprika and stir to coat, cook until fragrant, taking care not to burn the paprika (1-2 minutes). Add chopped tomato and mix well so that all the vegetables are evenly coated (2-3 minutes). Remove from heat and set aside.
4) Remove the veal, pork and chicken pieces from liquid (do not discard the liquid) and place in with the vegetables. Evenly arrange the meat and push under some of the vegetables to ensure everything cooks evenly, once aranged set aside.
5) To make the roux (thickener). Heat 2 tablespoons olive oil in a medium saucepan (medium heat). Add flour and stir frequently with a wooden spoon, being careful not to burn the flour (3-5 minutes). Have the liquid from the meat close by with a laddle and whisk ready to go. When the flour starts to smell like it's cooking add paprika and stir continuously until fragrant (1 minute). Add a ladle of the cooking liquid and whisk vigorously, once incorporated add another 2 ladles of liquid and whisk again until incorporated, continue to do this until you have a smooth slurry-type roux (3-5 minutes). Laddle in almost all of the cooking liquid, add pepper, extra salt if required and whisk to incorporate. Pour into the casserole/pan over the meat and vegetables until everything is just covered (you may not need to use all of the liquid, or if you require a little more just add some boiled water). Pop into a hot oven and cook for 15-20 minutes. Remove from oven, give things a bit of a shake/mix to help them from drying out. If things look like they are burning cover loosley with a sheet of foil or turn the oven down slightly. You may also need to add some more liquid/boiling water if the stew looks dry, alternatively if it looks like there's too much liquid, spoon some out. Continue cooking for a further 15-20 minutes (30-40 minutes in total) or until the potatoes are cooked through.
Note: For roux image see Village-style Spinach Stew recipe.
6) Meanwhile, if using okra, bring a pot of water to the boil, add 1 teaspoon salt and blanch okra for 1-2 minutes. Refresh under cold water, drain and set aside.
Note: If you are using green beans there is no need to blanch.
7) After 30-40 minutes remove casserole/pan from oven. Add blanched okra (or raw green beans) and gently mix through. Return to oven and cook for further 5-10 minutes.
8) Remove from oven. Rest for 5-10 minutes. Sprinkle over parsley and serve with crusty bread and feta cheese. Brown rice also tastes really yummy.
Tips:
-Â  The easiest way to de-seed chillies is by cutting the top off and discarding the stem, then cut in half lengthways to remove the seeds and membrane, see 'how to' image at Grilled Chillies recipe.
– If you prefer lamb, replace the veal with 3 lamb shanks.
– If you're a vegetarian, make Turli Tava without the meat and just use a good quality vegetable stock.